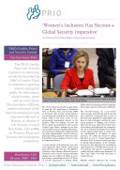 We are happy to share with you the November issue of the PRIO Gender, Peace and Security Update.
This issue includes a summary of the Open Debate at the UN Security Council on Women, Peace and Security, with Hillary Clinton as participant.
The issue also offers an interview with Chantale Walker, coordinator of the Friends of Women, Peace and Security Group, a Canadian initiative at the UN.
The PRIO Gender Peace and Security Update is an electronic newsletter launched by PRIO's Gender Team in response to growing interest among the public for information about women, peace and security issues.
The newsletter will keep readers informed of the latest developments both internationally and in Norway in relation to UN Security Council Resolution 1325 (2000) on Women, Peace and Security and subsequent resolutions.