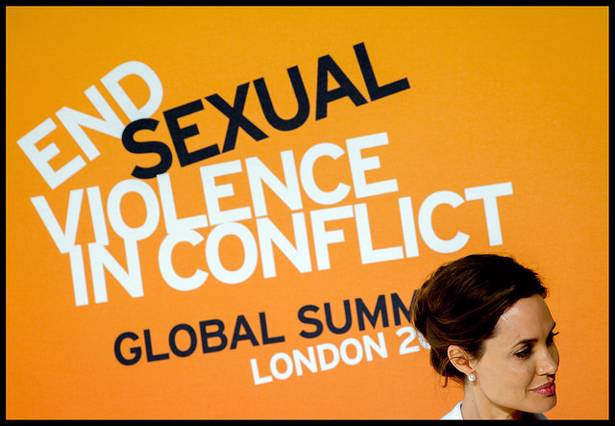 The Global Summit to End Sexual Violence in Conflict is taking place in London on 10-13 June, co-chaired by UK Foreign Secretary William Hague and Angelina Jolie, Special Envoy for the UN High Commissioner for Refugees. The summit is an effort to join forces internationally to combat the culture of impunity, take practical steps, support survivors, and change attitudes towards the issue. At PRIO, researchers have been working on issues of sexual violence in conflict for some time already, teaming up with international experts to perform groundbreaking research and convene large conferences.
No less than 7 PRIO Policy Briefs have been published on the issue since 2010. The Sexual Violence in Armed Conflict (SVAC) project, funded by the Research Council of Norway and led by Ragnhild Nordås at PRIO, has recently released a dataset which tracks reports of seven forms of sexual violence. Inger Skjelsbæk, author of The Political Psychology of War Rape: Studies from Bosnia and Herzegovina is an international expert on war rape who also has included the study of perpetrators in her work. Inger Skjelsbæk was also part of the steering committee when The United States Institute of Peace (USIP), the Human Rights Center at the University of California, Berkeley, the Peace Research Institute Oslo (PRIO), and Stockholm International Peace Research Institute North America (SIPRI North America) organized the Missing Peace Symposium in February 2013. The symposium convened a group of expert scholars, policymakers, practitioners, and military and civil society actors to examine the issue of sexual violence in conflict and post-conflict settings, identify gaps in knowledge and reporting and explore how to increase the effectiveness of current responses to such violence. A Young Scholars Network was also established at the symposium, and in May 2013 they met anew in Washington to write an open letter to William Hague and Angelina Jolie based on research and policy challenges identified by the best up-coming researchers in the field.
In conjunction with the London summit, PRIO researchers are working to inform debate on the issue in several ways:
PRIO Senior Researcher Ragnhild Nordås, together with Dara Kay Cohen (Harvard Kennedy School) and Elisabeth Wood (Yale University) published a blog post on 9 June in the Washington Post titled Four things everyone should know about wartime sexual violence.
PRIO Senior Researcher and Deputy Director Inger Skjelsbæk published an op-ed at NRK Ytring about ending rape in war on 11 June (English version is available).
PRIO Researcher Torunn L. Tryggestad participated in a panel debate at the Oslo stage of the Global Summit to End Sexual Violence in Conflict, hosted by the British Embassy in Oslo and the Norwegian Ministry of Foreign Affairs on 11 June.
PRIO Researchers have provided input based on their research to Norwegian Foreign Minister Børge Brende and his staff prior to the summit.
Supporting and nurturing a network of the best up-coming Young Scholars on sexual violence in conflict since February 2013, including the formulation of an open letter addressed to William Hague and Angelina Jolie.