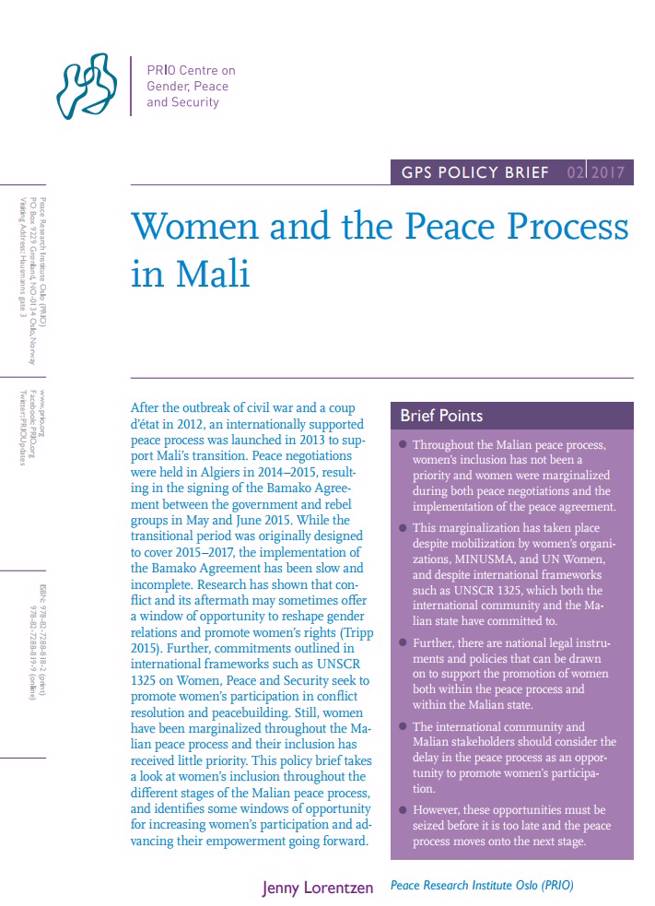 Jenny Lorentzen, Doctoral Researcher at PRIO, recently returned to Oslo after three months on fieldwork in Bamako, Mali. During this time she collected data for her doctoral research project on Women, Peace and Security in Mali and has now published a policy brief based on some initial findings.
Research has shown that conflict and its aftermath may sometimes offer a window of opportunity to reshape gender relations and promote women's rights (Tripp 2015). Further, commitments outlined in international frameworks such as UNSCR 1325 on Women, Peace and Security seek to promote women's participation in conflict resolution and peacebuilding.
Still, women have been marginalized throughout the Malian peace process and their inclusion has received little priority.
This policy brief takes a look at women's inclusion throughout the different stages of the Malian peace process, and identifies some windows of opportunity for increasing women's participation and advancing their empowerment going forward.
Lorentzen's doctoral project is part of a larger project at PRIO entitled 'Equal Peace? Women's Empowerment and Multicultural Challenges in War-to-Peace Transitions' led by PRIO Research Professor Inger Skjelsbæk.