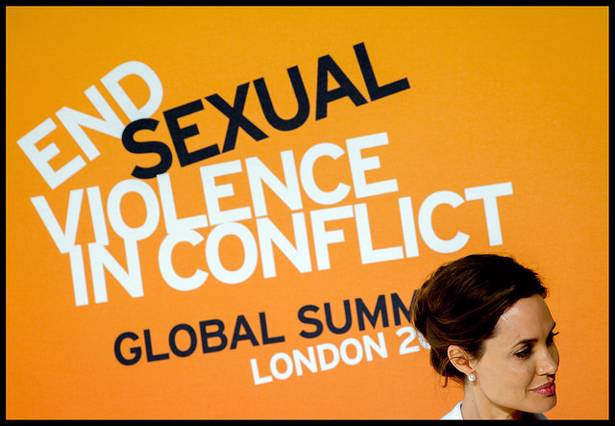 The Missing Peace Initiative Young Scholars Network –a network of early-career researchers from a wide range of academic backgrounds, committed to understanding and ending sexual violence in war – have written an open letter to William Hague, the UK Foreign Secretary, and Angelina Jolie, Special Envoy for the UN High Commissioner for Refugees, who are co-chairs of the Global Summit to End Sexual Violence in Conflict.
The Young Scholars met on 23 May 2014 at the United States Institute for Peace (USIP) in Washington DC for a panel event on 'Ending Sexual Violence in Conflict'. One of outcomes of this event was an open letter outlining three myths about conflict-related sexual violence, as well as a number of challenges and gaps in the research on the topic. The letter was published in The Huffington Post.
Read the letter to Hague and Jolie here.
The Young Scholars concluded their letter by challenging the United Kingdom to ensure their efforts to end conflict-related sexual violence is evidence-based:
"We sincerely applaud the UK's Preventing Sexual Violence Initiative for tackling these difficult issues, and we look forward to working with policy-makers to support efforts that will go beyond punishment and retribution to effectively treat, prevent, and ultimately end sexual violence in conflict. We only hope that this critical action is evidence-based."
The Missing Peace Initiative Young Scholars Network is an extension of the Missing Peace Initiative. The Missing Peace Initiative was established in 2013 as a collaborative project of the Human Rights Center at the University of California, Berkeley, the Peace Research Institute Oslo (PRIO), the United States Institute of Peace (USIP), and Women In International Security (WIIS). The Initiative brings together scholars, policymakers, practitioners, and military and civil society actors to examine the issue of sexual violence in conflict and post-conflict settings, identify gaps in knowledge and reporting, and explore how to increase the effectiveness of current responses to such violence.