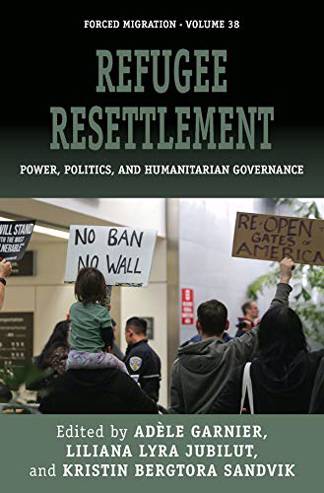 Four PRIO researchers have contributed to the upcoming book 'REFUGEE RESETTLEMENT: Power, Politics, and Humanitarian Governance'. The collection, which will be released this month, examines the issue from various angles, including the social, legal, historical, and political ramifications.
The book was edited by Adèle Garnier, Liliana Lyra Jubilut, and Kristin Bergtora Sandvik.
Kristin B. Sandvik is a Research Professor at PRIO who is currently working on issues of humanitarianism and sociology. Her topics include the legal and technological aspects of humanitarianism.
In addition, Maria Gabrielsen Jumbert (PRIO Senior Researcher) and Linn Marie Reklev (Gender, Peace and Security Centre Manager) wrote a chapter together on the Norwegian debate surrounding the refugee crisis. Amanda Cellini, former Manager of PRIO's Social Dynamics department, wrote the annex 'Current Refugee Resettlement Program Profiles'.
'The book offers a much-needed critical take on the problematic fusion of (quasi-)humanitarian and control-oriented politics that characterizes today's global migration and refugee management,' Martin Geiger (Carleton University) wrote in a review.
The book was an output of the PRIO project Brazil's Rise to the Global Stage (BraGS), led by Jumbert; Cellini and Sandvik are also members. Additionally, the book's co-editor Liliana Lyra Jubilut is affiliated with BraGS, based out of the Universidade Católica do Santos.
The introduction is available via open access.
REFUGEE RESETTLEMENT: Power, Politics, and Humanitarian Governance
Edited by Adèle Garnier, Liliana Lyra Jubilut, and Kristin Bergtora Sandvik
Introduction: Refugee Resettlement as Humanitarian Governance: Power Dynamics
Adèle Garnier, Kristin Bergtora Sandvik and Liliana Lyra Jubilut
Chapter 2. A Legal History: The Emergence of the African Resettlement Candidate in International Refugee Management
Kristin Bergtora Sandvik
Chapter 3. Brazil's Refugee Resettlement: Power, Humanitarianism and Regional Leadership
Liliana Lyra Jubilut and Andrea Cristina Godoy Zamur
Chapter 7. Shaping the Political Space for Resettlement: The Debate on Burden-Sharing in Norway Following the Syrian Refugee Crisis
Linn Marie Reklev and Maria Gabrielsen Jumbert
Annex: Current Refugee Resettlement Program Profiles
Amanda Cellini