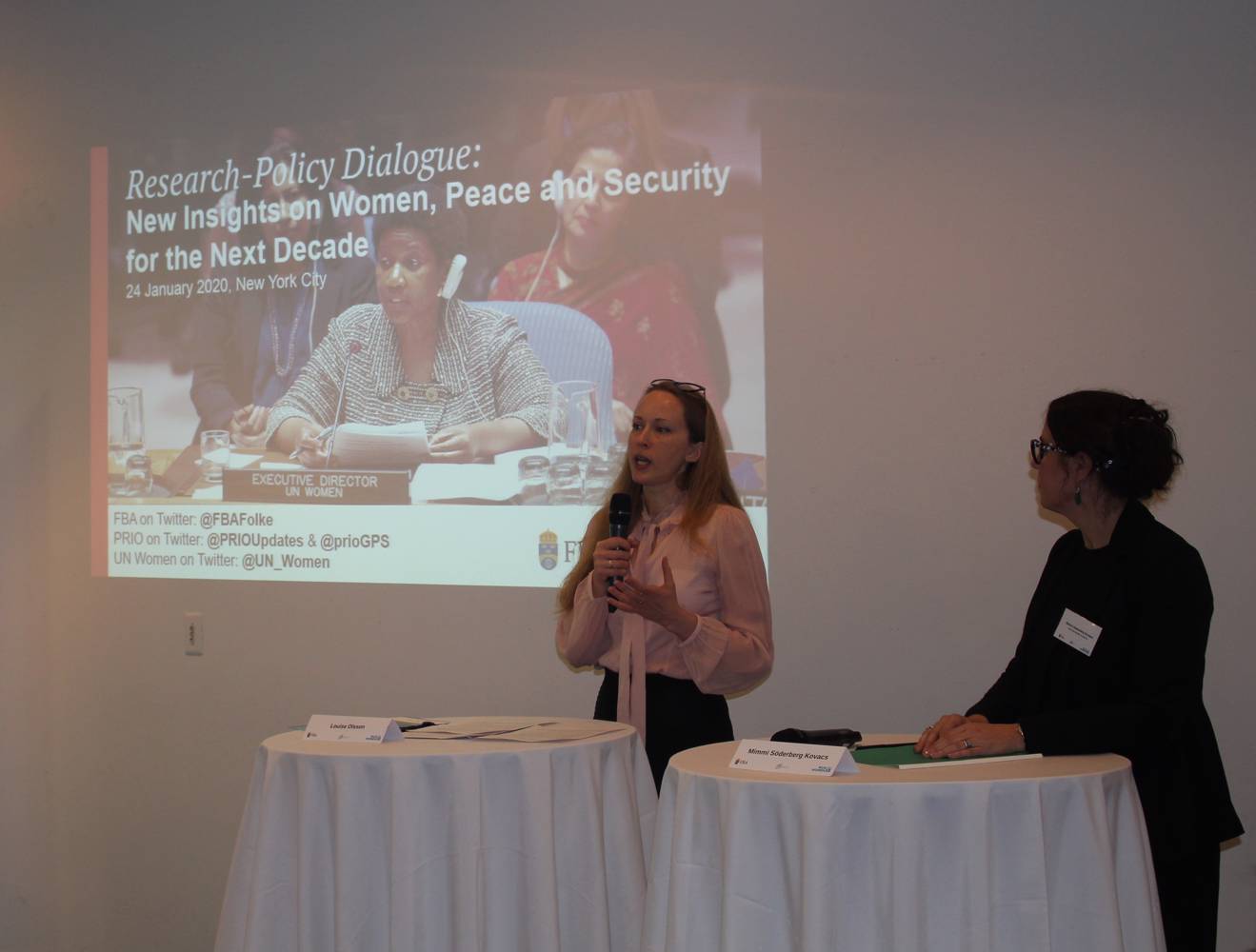 In background to the twentieth anniversary of United Nations Security Council Resolution 1325 on Women, Peace and Security (WPS), FBA and PRIO in collaboration with UN Women, organized a Research-Policy Dialogue on 'New Insights on Women, Peace and Security for the Next Decade' on Friday 24 January at Scandinavia House, New York. The Dialogue brought together leading scholars from the FBA research network with key policymakers and practitioners from a range of Member States, UN Departments, the World Bank, and NGOs, to discuss novel research results with relevance for forwarding the realization of the WPS resolutions and for promoting evidence-based policy and practice. Karin Landgren, Executive Director at Security Council Report and a member of the Nordic Women Mediators network, gave a keynote on ongoing Security Council dynamics.
In her remarks, Senior researcher Louise Olsson highlighted PRIO's systematic empiricist research on gender equality and WPS, including the WPS Index in cooperation with Georgetown Institute for Women, Peace and Security. Olsson gave mention to ongoing teaching and training initiatives the PRIO GPS Centre is involved in, such as the Nordic Women Mediators network and the UN High-Level Seminar on Gender and Inclusive Mediation Strategies.
Furthermore, Olsson participated in a roundtable focusing on strategies for strengthening women's inclusion and the importance of WPS in peace agreement implementation. Olsson's presentation brought out key points from research on women's political rights post war conducted in collaboration with Madhav Joshi, University of Notre Dame, and on gender provisions, the latter from a project conducted together with Erika Forsberg and Karen Brouneus, Uppsala University.
The Dialogue was preceded by a two-day research workshop conducted in a collaboration between FBA and PRIO. The workshop brought together researchers from the FBA research network to discuss ongoing projects on, for example, mediation, conflict related sexual violence, and gender equality dynamics post-war. Researchers included Ismene Gizelis, University of Essex, Kyle Beardsley, Duke University, Elin Bjarnegård and Erik Melander, Uppsala University, Sabrina Karim, Cornell University, Dara Cohen, Harvard University, and Karin Aggestam, Lund University. PRIO's Louise Olsson was responsible for creating and leading the WPS section of the FBA research network 2009-2018 in her previous capacity at FBA.