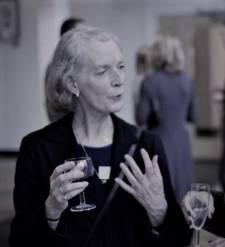 For 40 years from 1971 to 2011, Anne Cecilie Kjelling and the Library of the Norwegian Nobel Institute were as one. Probably every single peace, conflict, security or international relations researcher based in Oslo, or visiting the Nobel Institute during that period, will have benefitted from her kind and diligent help to identify the best possible literature or published sources for the topic they wanted to explore. She was not just interested in the books and journals as such, or in keeping them in good order, but was fascinated by our research topics. This led her to become an active participant in the Peace History section of the International Peace Research Association (IPRA).
Many a PRIOite has discussed their research projects with her and benefitted greatly from her advice. From her vantage point in the open office next to the whispering quiet she maintained in the Nobel Institute's reading room, she keenly followed PRIO's exploits through the years. She was a frequent source of help and advice for Odvar Leine, PRIO's head librarian during 2007–2017, and our current head librarian, Olga Baeva, for some years worked part time under Anne Kjelling's direction at the Nobel Institute. Anne Kjelling served as book review editor for PRIO's journal Security Dialogue from 1995–2005. Until recently, we saw her coming regularly to our seminars. And after she retired from the Nobel Institute, she took up a position at the Oslo Jewish Museum, in the immediate vicinity of PRIO.
Peace Librarian Anne Cecilie Kjelling (born Hartvig) was born on 4th September 1941, as Hitler's armies advanced on the Eastern Front and before Franklin D. Roosevelt's USA joined the struggle against the Axis powers. She passed away on 20th January 2021, just as Joseph R. Biden Jr. (born in 1942) was sworn in as the new US president. In her life, she saw Nobel Peace Laureates come and go.
Before taking up her position at the Nobel Institute, Anne built up her impressive competence as a librarian through service at the New York Public Library and the libraries of the Norwegian naval town Horten, the Norwegian Ministry of Foreign Affairs and Statistics Norway, and through her studies at the Norwegian State Library College.
Young researchers today can hardly imagine how essential physical books and printed journal copies were for researchers in a not so distant past. This made the well-stocked and well-financed library at the Nobel Institute an indispensable resource for visiting researchers from all around the world. One of PRIO's founders, Ingrid Eide, describes in her PRIO Story (published on the PRIO website) how ideas leading to PRIO's inception were derived from discoveries in the Nobel Library shortly after the Second World War. Later on, both during and after the Cold War, old and young PRIOites found Anne Kjelling to be an exceptionally helpful guide to information.
It follows from Anne Kjelling's career that she had a vast network of friends in many countries. We would have wanted to attend her funeral, so it is with sadness we are forced to remain at home, due to the C-19 pandemic. Only the nearest family may attend. Let us express our deepest condolences to Anne Kjelling's son Teis Daniel and daughter Cecilie.
May Anne Kjelling rest in the peace she nurtured so well.
PRIO, 22 January
Stein Tønnesson on behalf of friends at PRIO