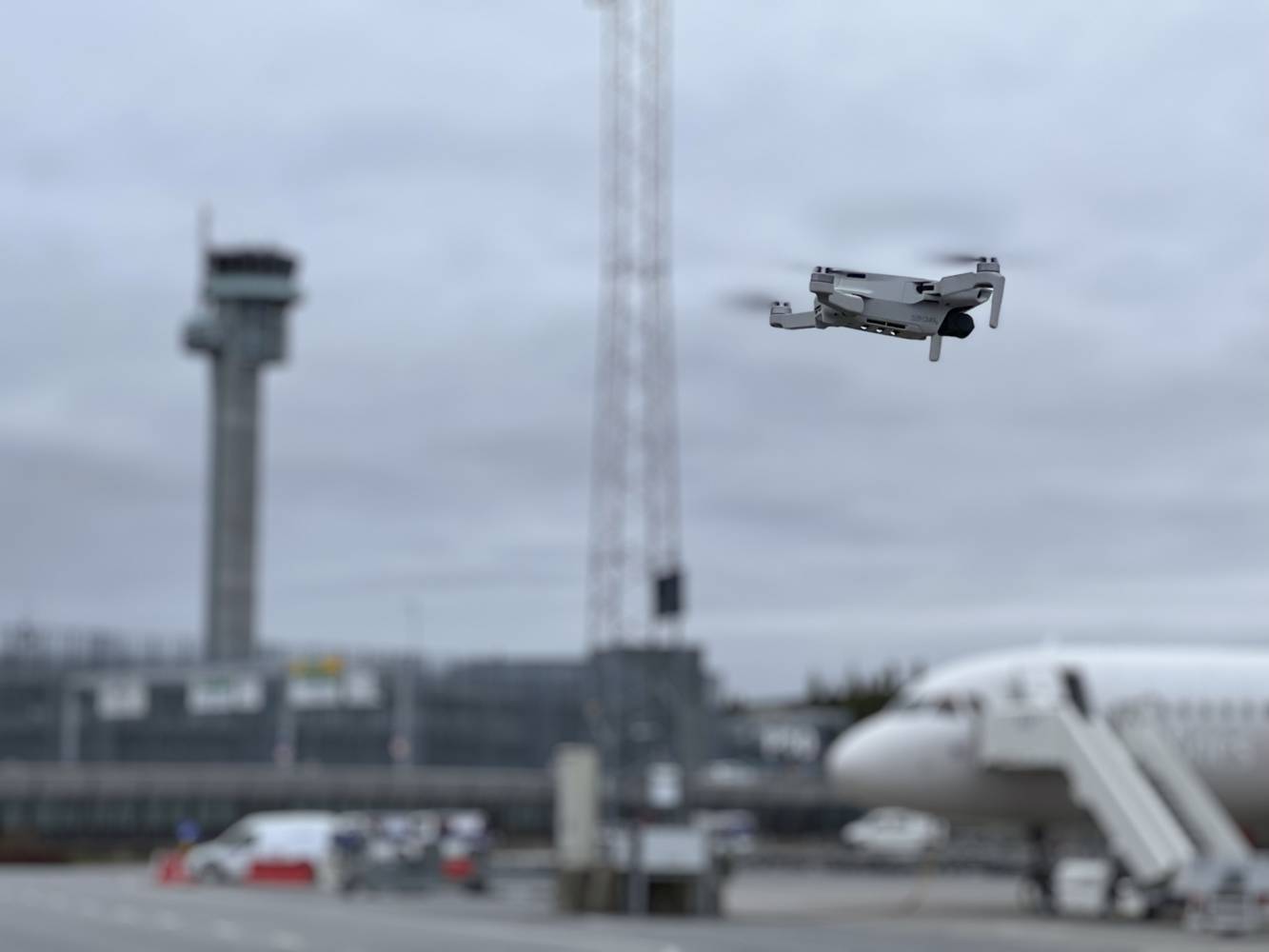 On 28-30 September 2021, the RegulAIR project team attended the first-ever international drone incursion exercise at a fully operational airport. Organized by INTERPOL, the Norwegian Police, Avinor, and UAS Norway, the event gathered C-UAS technology vendors, police officers, officials from government agencies, and experts from around the world, with the aim of testing C-UAS technology, and of discussing the challenges and opportunities for detecting, tracking, and intercepting unmanned aircrafts. The exercise was a culmination of eighteen months of planning and served not only as an opportunity to test cutting-edge technology in an operational setting, but also as a forum for discussions on practical, societal, and legal aspects of the threat posed by non-cooperative drones.
The exponential increase in civilian drone use in the past years has led to wide range of security concerns in both civilian and military settings. The 2018 drone sighting at Gatwick airport, and its extensive economic and security implications, revealed airport security and law enforcement's unpreparedness in the face of non-cooperative drones.
A 2019 incident at Solvær Airport in Norway involving a drone detected less than 100 meters from an airplane, triggering its anti-collision system, further exposed the severity of the issue of drone-use near airports. This summer, the Norwegian Police ran an exercise wherein they deployed drone detection technology in order to assess the true scope of drone-use around Oslo International Airport. It revealed that in the month of July, out of 125 drone flights detected by the police, only two flights had been approved, and dozens were detected in violation of the drone flight rules because they were too close to the airport. These security concerns are compounded by a range of practical and legal considerations, including strict legal restrictions on C-UAS use – making the deployment of C-UAS technology exceedingly difficult – as well as larger societal implications related to securitization of airspace.
At the exercise, RegulAIR Project Leader, Bruno Oliveira Martins, presented the findings his 2020 co-authored report on C-UAS technology, Countering the Drone Threat: Implications of C-UAS Technology for Norway in an EU and NATO Context. The report examines the challenges of counter-drone technology, looking at both civilian and military scenarios for C-UAS application. These scenarios include drones in the proximity of large crowds in urban areas (which in fact occurred in Norway in 2019 when two drones were stopped during the 17th of May celebrations in Oslo), armed drone attacks on Norwegian oil platforms, and drone incursions in an airport. Each scenario involves a myriad of different challenges, illustrating the complexities of civilian and military efforts to counter non-cooperative drones. These considerations all take place within an EU and a NATO context, adding a further dimension of complexity to the issue.
The exercise itself took place over three days, involving 17 different suppliers of C-UAS technology from Europe and the United States. The technology tested was for detection, tracking and interception. The vendors tested their individual systems with police-piloted drones, simulating scenarios involving non-cooperative drones. Each C-UAS system was scored based on their ability to sense, track, and identify drones.
Topics of discussion during the exercise included drone incident reporting, geofencing and its potential ability to solve drone incursions, and considerations for selecting and operating C-UAS systems. A workshop on how to handle drone incursions was organized after the tests had concluded, allowing experts and stakeholders to discuss the larger considerations and challenges facing the use of C-UAS technology. The three-day exercise concluded with a panel discussion on drone incursions at airports with representatives from the Norwegian Police Directorate, UAS Norway, INTERPOL, Avinor, the Norwegian Police, and Widerøe.
The team's exercise presentation is available for download here (pdf).