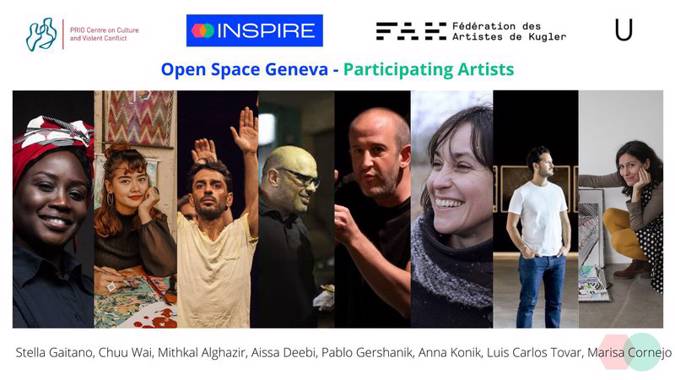 Exploring inspiration, motivation and artistic creation of artists engaged with themes of war, conflict, displacement and social (in)justice.
Starting September 17, Kasia Grabska (PRIO) in collaboration with artists Anna Konik and Marisa Cornejo will bring together a group of artists with lived experiences of exile, displacement, violent conflict, or political persecution and who work creatively on related issues in their artistic practice in an Open Space in Geneva. During this time, they will reflect, discuss, and create collaboratively around themes of war, conflict, displacement and social (in)justice.
Participating artists have backgrounds from Palestine, Myanmar, Sudan, Argentina, France, Syria, and Colombia amongst other countries. Their artistic practices span across different disciplines, and they include choreography, theatre, painting, literature, installation, and lens-based practices.
This initiative has the aim to create a collective space of reflection and creation which relates to the themes explored in the INSPIRE research project. Through collaborative work these artists of multidisciplinary background will work together on one piece.
The Open Space will be hosted by Utopiana Residency and Espace Kugler.
Read more about the Open Space Geneva initiative and the participant artists on theINSPIRE website. For more news on INSPIRE collaborations, follow INSPIRE's social media presence on Instagram and Facebook.
Open Space Geneva Participating Artists - updated
        ![Open Space Geneva Participating Artists - updated](https://cdn.prio.org/cdn_image/8c6155aaf41e48f2b7fadc8c01360444.jpg?x=720&y=480&m=Scale)
        

Photo: Open Space Geneva - participating artists