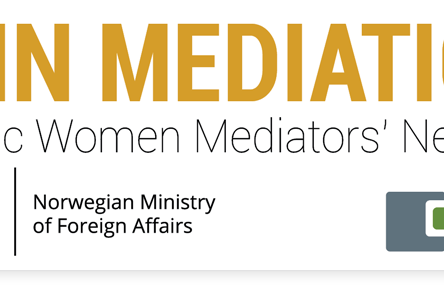 The Norwegian Ministry of Foreign Affairs, the Peace Research Institute Oslo (PRIO), and the Norwegian Peacebuilding Resource Centre (NOREF) have the great pleasure of inviting you to the public launch of the Nordic Women Mediators' Network (NWMN). Inspired by a similar initiative in Southern Africa, the Nordic governments endorsed the idea of a Nordic Women Mediators' Network (NWMN) at the Nordic African Foreign Ministers' meeting in April 2015.
While important gains have been made in the implementation of UN Security Council Resolution 1325 on Women, Peace and Security (UNSCR 1325), formal peace and mediation processes have lagged behind in effectively engaging and meaningfully involving women, whether as parties to a conflict or as members of the teams facilitating and leading peace processes. The UN Security Council has on a number of occasions expressed concern at the persistent obstacles to women's full involvement in the prevention and resolution of conflicts. Special attention has been drawn to the constant under-representation of women in formal peace processes.
Why a Nordic Women Mediators' Network?
The objective of the NWMN is to redress this situation by:
Increasing the number of Nordic women that are actively involved in international peace mediation efforts.
Connecting to and promoting networks of women mediators in the south, both at country level and in regional organisations.
Looking to be a pilot for similar initiatives in other regions or at the international level, through close coordination with the UN.
The network will be inaugurated in Oslo, 27 November, 2015.
Programme
8:30-9:15 Registration and coffee
N.B. all participants must be in their seats by 9:15
9:30-10:30 Opening remarks and conversation
Mr. Tore Hattrem, State Secretary, Ministry for Foreign Affairs of Norway
Ms. Ann Bernes, Ambassador, Ministry for Foreign Affairs of Sweden
Mr. Peter Stenlund, Secretary of State, Ministry for Foreign Affairs of Finland
Mr. Stefán Haukur Jóhannesson, Permanent Secretary, Ministry for Foreign Affairs of Iceland
Moderator: Eva Bratholm, Head of Communications, Norad
10:30-10:45 Break
10:45-12:10 Can women mediators make international mediation more fit for purpose?
High-level panel discussion with women mediators and negotiators. Panelists include:
Hilde Frafjord Johnson (Norway), Senior Visiting Fellow, the Norwegian Institute for International Affairs (NUPI)
Gréta Gunnarsdottír (Iceland), Ambassador
Karin Landgren (Sweden), Former UN Undersecretary-General and George Soroš Visiting Practitioner Chair, Central European University
Elisabeth Rehn (Finland), Minister of State
Q&A
Moderator: Kristian Harpviken, Director, PRIO
12:10-12:15 Closing remarks
Mariano Aguirre, Director, NOREF