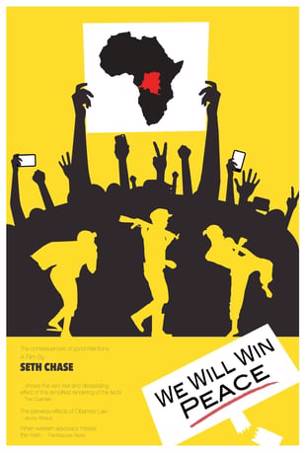 In collaboration with this year's Human Rights Human Wrongs film festival, the PRIO Centre on Gender, Peace and Security presents an evening of film and debate on the use of celebrity activism in stopping sexual violence in the Democratic Republic of the Congo.
The film, We Will Win Peace, is a documentary that shows what happened after a campaign and US ruling required companies to disclose their use of conflict minerals like coltan from DR Congo or neighboring countries (The Dodd Frank Act). Championed by celebrities such as Ben Affleck and Nicole Richie, the campaign argued that such disclosures were a precursor to prevent sexual violence from happening. The documentary shows that the campaign had the opposite effect.
After the film, a panel debate will discuss celebrity activism - is it a good thing or does it rather lead to over-simplified and misguided solutions to complex problems? Panelists include practitioners and researchers working in and on DR Congo:
Dominique Vidale-Plaza, founder and CEO of Channel Initiative, a non-profit that aims to provide effective services to vulnerable communities, particularly in rural DR Congo. She is currently on assignment as Women's Protection Advisor for MONUSCO, the UN peacekeeping mission in DR Congo. She has previously worked at Panzi hospital in Bukavu, DRC.
Jean-Benoit Falisse, doctoral researcher at the Department of International Development, University of Oxford. His doctoral research focuses on community governance of health centres in South Kivu, DR Congo and Burundi. He has previously worked at the Catholic Organisation for Relief and Development Aid (Cordaid) in Bukavu, DRC.
Ragnhild Nordås, PRIO Research Director and Senior Researcher. Her main research focus is Sexual Violence in Armed Conflict and Female Empowerment in Eastern DRC.
Inger Skjelsbæk will moderate the debate. Skjelsbæk is Research Professor at PRIO & Associate Professor, Department of Psychology, University of Oslo, and a leading expert on conflict-related sexual violence.
Buy tickets here:
http://www.cinemateket.no/billetter?eventId=146459
Full price kr 80. Students kr 50. (For students and Cinemateket members buy Human: medlem)