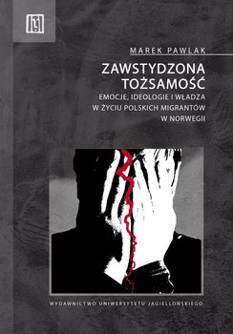 This PRIO Migration Breakfast seminar features a discusssion between Dr. Marek Pawlak (Jagiellonian University, Kraków) and Professor Thomas Hylland Eriksen (University of Oslo) on the themes raised in Pawlak's recent book 'Embarrassing Identity. Emotions, Ideologies and Power among Polish Migrants in Norway'.
Polish migrants are the largest immigrant population in Norway. Whilst their presence is obvious in the construction sector, and gradually in many spheres of Norwegian society, there are many dimensions of Polish migrants' lives in Norway which remain below the radar. During this Breakfast seminar Dr. Pawlak will shine a light on the ways in which emotions, ideologies and power matter, based on long-term ethnographic engagement with Polish migrants in the Oslo-area.
Together, Marek Pawlak and Thomas Hylland Eriksen, will discuss the insights from this research, for broader understandings of both Polish migration and diversity in Norway. How understanding the roles of emotions, such as shame and embarassment better, can be of relevance both to theoretical development in anthropology and migration studies, and for policies on migrant integration, will also be discussed.
Program
08.15 Doors open: Coffee/tea & croissants/fruit
08.30 Welcome and Introduction (Marta Bivand Erdal)
08.40 Embarassing Identity (Marek Pawlak)
09.10 Comments (Thomas Hylland Eriksen)
09.20 Discussion (Marek Pawlak & Thomas Hylland Eriksen)
09.30 Comments and questions from the audience (moderated by Marta Bivand Erdal)
10.00 End of seminar
The event is hosted by PRIO's Migration Research Group, in collaboration with the 'Migration for welfare: nurses within three regimes of immigration and integration into the Norwegian welfare state' (WELLMIG) research project (led by Marie Louise Seeberg, OsloMet), and the Research network on Polish migration to Norway.
***************************************************************************************************
'Embarrassing Identity. Emotions, Ideologies and Power among Polish Migrants in Norway'
The book explores Polish post-accession migration to Norway from the perspective of emotions, which are approached not as individual feelings, but rather as collectively lived experiences. It introduces the role of shame and embarrassment in migrants' lives and problematises the intersections of national identity and social class. Discourses, practices and experiences of shame and embarrassment are thus understood as vehicles for decentralised and dispersed power used to control the "proper" ways of thinking, behaving and acting. Such context reveals different ideologies and imaginaries at work, where shame and embarrassment trigger off more intimate and familiar cultural meanings, which for many Poles should rather be forgotten or at least concealed from the eyes of international public.
*By Marek Pawlak, 2018, Jagiellonian University Press [*Zawstydzona tożsamość. Emocje, ideologie i władza w życiu polskich migrantów w Norwegii].