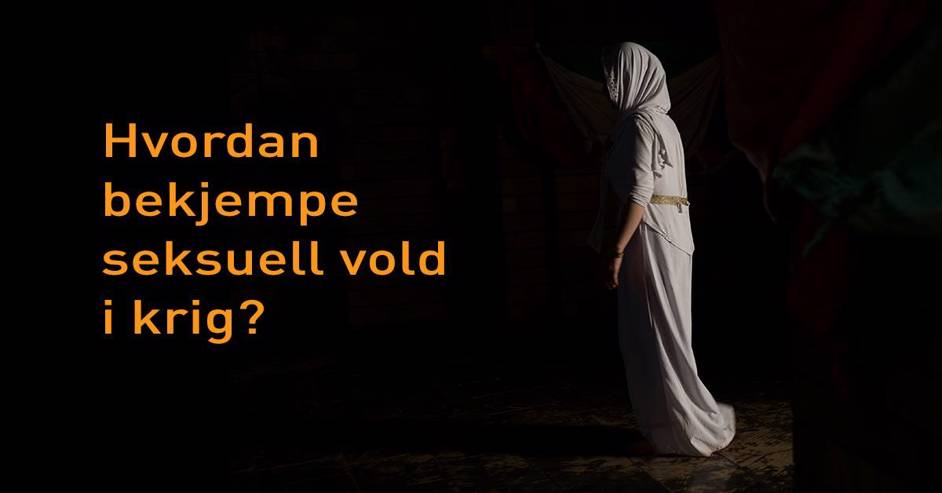 On Tuesday 11 December, PRIO, FOKUS and Norwegian Church Aid are co-hosting a public event on "how to combat sexual violence in conflict", in connection with the 2018 Nobel Peace Prize.
Rape and sexual violence is a weapon that must be fought in the same way as bombs and chemical weapons. We cannot accept that wars are fought on the bodies of women and children. During this event, we will shed light on this issue, mainly by drawing on the experiences of survivors of conflict-related sexual violence from around the world.
How is sexual violence used in wars, and what are the consequences? What can we do to combat this form of violence in the context of conflict? What can the international community, and Norway in particular, do about the issue? What must be done within the countries where sexual violence constantly is being used as a weapon? These are some of the issues that will be addressed during this event.
Some of the survivors will tell us about their experiences and provide their advice on how to end this form of violence. We have also invited researchers with expertise on the consequences of sexual violence in conflicts and the issue of impunity. Finally, we have invited prominent Norwegian politicians to a debate on how to combat impunity for these crimes.
Programme
08:00-08:30: Breakfast is served
08:30-10:00: Panel conversation with survivors
Najlaa Khudhur Matto (and her sister Daleeda Khudhur Matto), Iraq
Alphonsine Gisele Banyanga, DRC
Ajna Jusić, child of survivor, Bosnia
Eulalia Escalante, Colombia
The conversation will be lead by Nora Sveaas, professor in psychology at the University of Oslo.
10:00-10:10: Break with coffee and fruit
10:10-10:40: A research conversation
Inger Skjelsbæk, Research Professor, PRIO
Kim Thuy Seelinger, Director for the Sexual Violence Program at the Human Rights Center at Berkeley School of Law
SRSG Pramila Patten, UN Special Representative on Sexual Violence in Conflict
10:40: Panel conversation with politicians (in Norwegian only)
Hilde Frafjord Johnson, KrF
Karin Andersen, SV
Heidi Norby Lunde, Høyre
Anne Beathe Tvinnereim, Sp (tbc)
This conversation will be lead by Stig Arild Pettersen from the podcast Du verden