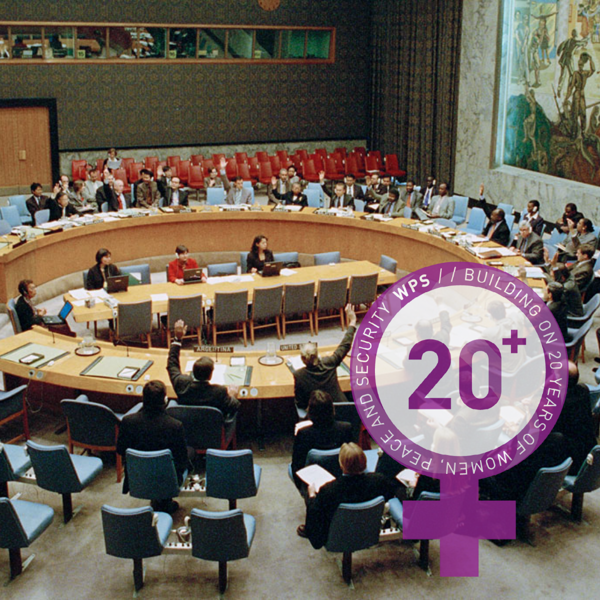 In his most recent progress report to the UN Security Council on Women, Peace and Security (WPS), the UN Secretary-General calls on the international community to "bring about a gender data revolution on women, peace and security that reaches the general public, focuses on closing data gaps and increases our knowledge around today's most pressing issues". This webinar discusses how the critical roles of research institutions and civil society organisations in advancing the WPS agenda can be further amplified through collaboration. The seminar will discuss concrete examples of successful collaboration between PRIO researchers and civil society organisations, which has resulted in policy impact in Norway as well as internationally.
In the 20 years that have passed since the UN Security Council passed resolution 1325 on Women, Peace and Security, civil society organisations and research institutions have played an important role in advancing the agenda through lobbying efforts and knowledge production. In a world where the civic space is shrinking and the role of independent, critical research is under pressure, it is more important than ever that civil society organisations and research institutions cooperate.
This webinar will look at and discuss two examples of cooperation between PRIO researchers, and civil society organisations Save the Children and FOKUS- Forum for Women and Development. How did this collaboration come about? What have come out of these partnerships for the actors involved? How can these partnerships lead to policy impact? What role does research play in the work of civil society and vice versa?
The PRIO Centre on Gender, Peace and Security and FOKUS have worked together on WPS related issues in Norway and internationally for many years. This has taken the form of regular informal consultations and formal collaboration on seminars and large conferences. What have been the benefits of this cooperation, and how do they see the WPS agenda moving forward?
Since 2017 PRIO has collaborated with Save the Children in providing an overview of the patterns of armed conflict, number of children affected by armed conflict, child mortality in conflict zones, sexual violence against children, as well as the prevalence of child soldiers. This research has been used to inform Save the Children's flagship report on children in armed conflicts. What has been the impact of this research on policy? What lessons can be learned from this collaboration of relevance to the WPS agenda?
To join the event, please click here. To sign up and get a reminder of the event, register by clicking on the button on the top right.
Speakers:
Gro Lindstad, Executive Director at FOKUS- Forum for Women and Development.
Gunvor Knag Fylkesnes, Advocacy and Communications Director at Save the Children Norway.
Henrik Urdal, Director and Research Professor at PRIO.
Torunn L. Tryggestad (Chair), Deputy Director at PRIO and Director of the PRIO GPS Centre.
Building on 20 Years of Women Peace and Security:
This event is part of the "Building on 20 Years of Women, Peace and Security" Norwegian anniversary week organised from the 9th to the 13th of November. The 20th anniversary of UN Security Council Resolution 1325 is marked by an official high-level commemoration, as well as webinars held by civil society organisations and research institutions. The aim of these webinars is to discuss the current challenges facing the global Women Peace and Security agenda, and to highlight the fundamental role of civil society organisations in creating and moving the agenda forward.
The webinars have been organised by the PRIO Gender, Peace and Security Centre and FORUM1325, represented by the following member organisations; Care Norway, FOKUS – Forum for Women and Development, Mental Health and Human Rights Info, ACT/ Norwegian Church Aid, Norwegian Human Rights Fund.
Watch the webinars here: