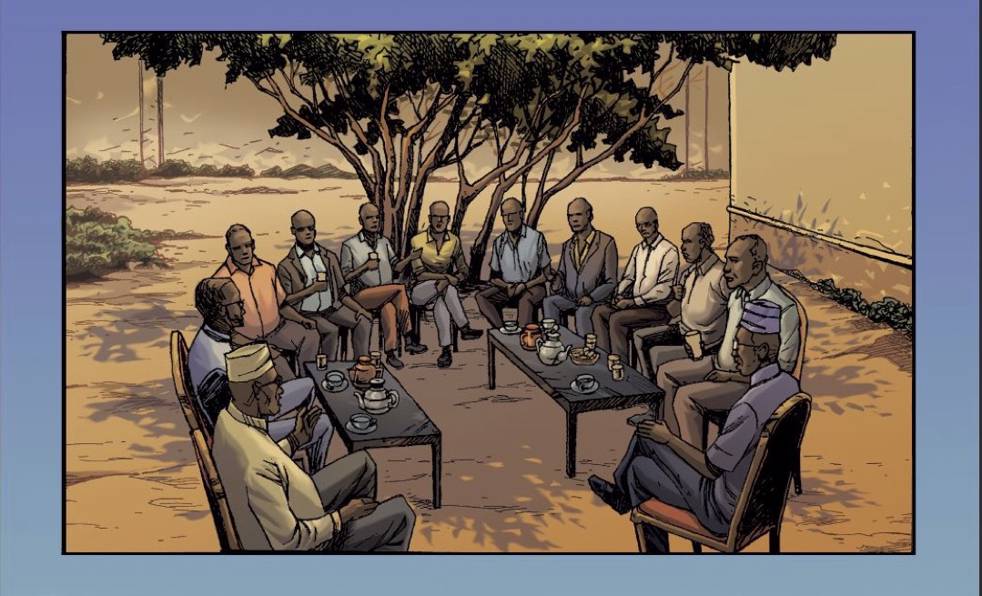 Join the event by clicking here.
In this event, we are proud to launch the historical comic "Uffo". It tells the true story of doctors and teachers in the 1980s in Somaliland, who engaged in humanitarian activity and political critique when they created a self-help group to restore the hospital in Hargeisa. The five-part comic series was created based on research by doctoral researcher Ebba Tellander and produced by PositiveNegatives for the Societal Transformation in Conflict Contexts (TRANSFORM) project. In this seminar, Cindy Horst will engage Ebba, PositiveNegatives director Benjamin Dix, and Somali-British author Hanna Ali in a conversation on the creation of the comics.
The event is open to all, but you can receive a reminder by registering with the button at the top of the page.
The first chapter of the comic can be read here in English and here in Somali!
Hanna Ali is an Author, Photographer, Artistic Director, Frequent Panellist, Teaching Fellow and PhD candidate at SOAS, University of London where she specialises in Afro-Arab identity. Hanna works for Kayd Somali Arts and Culture as Artistic Director. She is the Festival Director of Somali Week Festival, which is a 10-day London based festival during London's Black History Month.
Benjamin Dix is Founder and Executive Director of PositiveNegatives. Ben worked as a Communications Manager for the United Nations and various international NGOs across Asia and Africa for over 12 years, and was a photojournalist before he started creating comics and animations.
Cindy Horst is Research Professor at the Peace Research Institute Oslo (PRIO) and leads the TRANSFORM project. She currently researches how individuals can challenge the status quo and effect societal change in post-conflict settings, and is especially interested in innovative research methodologies through shared anthropology.
Ebba Tellander is a Doctoral Researcher at Peace Research Institute Oslo and International Institute of Social Studies within the TRANSFORM project. She researches people's motivations and strategies when initiating collective action in repressive settings, focusing on the case of Uffo. For her research, she also took part in the production of a 13-episode TV series about the Uffo.