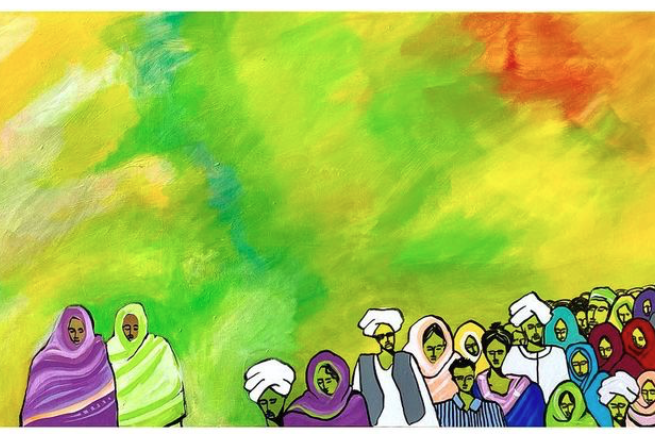 In this roundtable discussion, Sudanese artists and curators will reflect on the role of arts in the current war and the previous revolutions, as well as comment on the ongoing fragile situation in Sudan.
Since April 15th, 2023, fighting between troops loyal to rival generals erupted in Sudan. Hundreds of lives have since been lost and fragile ceasefires continue to be broken. Over 1 million people have crossed over to other countries in search of refuge. Among them, artists who have been previously involved in the creation of the vibrant art scene in Khartoum since the 2018 revolution. The arts have played a significant role in promoting mass mobilisation as a tool of peaceful resistance.
The event will be in English and will take place Wednesday, the 14th of June, 14:30 CET- 16 CET and will be moderated by PRIO researcher Katarzyna Grabska.
The event will be streamed on Micorsoft Teams, click here to be redirected.
Speakers:
Reem AlJeally is an architect turned visual artist and aspiring curator with a great passion for channelling her talents towards addressing social issues and challenging social change. She established The Muse multi studios in 2019, an integrative regional artistic organization, and founded Bait Alnisa in 2020 to promote and curate Sudanese female art.
Mohamed Sonata holds a bachelor degree in music and is an IB certified music teacher working in different educational institutes in Sudan. He believes that music is something beyond being a cultural component. Music is a genuine part of the core of humanity and has the ability to bring a real social change.
Rahiem Shadad is a curator from Khartoum who's been engaged with the art scene since 2015. He co-founded Downtown Gallery in Khartoum in 2019 with the goal of providing a space which cements the rise that happened to the art scene post-revolution. He is an ARAK Collection Fellow Curator. His curatorial approach is focused on how art registers the social and political changes the community goes through. Rahiem is one of the organizers of the campaign for supporting the art community through the current war in Sudan.
Moderator:
Katarzyna (Kasia) Grabska is a Feminist Anthropologist, a Senior Researcher at the Peace Research Institute Oslo (PRIO) as well as a visiting professor at the Ethnology Institute at the University of Neuchâtel in Switzerland. Her research has focused extensively on the themes of gender, generation, youth, displacement, refugees, return, identities, and access to rights for refugees in urban settings. Her current research focuses on artistic socially engaged practices in conflict and exile settings and involves collaborations with artists.
The INSPIRE seminar series is a monthly online space where we explore arts-based methods, collaborative methods, ethics of doing research with artists, art as transformation and engaged scholarship - all in the context of violent conflict and war - with invited researchers and artists. The seminars are open to all interested in these topics.