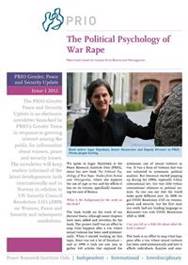 We are happy to share with you this year's first issue of the newsletter on Gender, Peace and Security. This issue is headlined by an interview with Inger Skjelsbæk on her recent book, The Political Psychology of War Rape: Studies from Bosnia and Herzegovina. The book is a valuable contribution to literature on war rape, how to understand rape as a weapon of war, how it affects victims and society at large, as well as how to study it.
You will also find articles on the launch of the Peace Research Endowment in the US, an endowment which will facilitate contact between donors and researchers on issues of peace and conflict; two articles on UN and gender issues: one on the open debate in the Security Council on Conflict-Related Sexual Violence and one on the launch of the DPA Guidelines for Mediators.
The issue also features an article on the Afghan women's rights activist Wazhma Frogh's visit to Norway, as well as the regular columns with Norwegian and international news, recent publications and coming events.
The PRIO Gender Peace and Security Update is an electronic newsletter launched by PRIO's Gender Team in 2010 in response to growing interest among the public for information about women, peace and security issues.
The newsletter will keep readers informed of the latest developments both internationally and in Norway in relation to UN Security Council Resolution 1325 (2000) on Women, Peace and Security and subsequent resolutions.