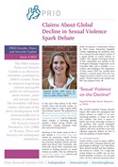 The fourth issue of the GPS Update features an article by PRIO researcher Ragnhild Nordaas on the Human Security Report 2012 and the claim that sexual violence in conflict is on the decline. It also features reports from various Nordic workshops/network meetings.
You will also find a long list of new publications – publications we believe are of interest to our readership. Please, feel free to share the GPS with interested colleagues.
Don't hesitate to get in touch if you have views to share or ideas/suggestions for forthcoming issues. For any queries regarding the GPS, contact Jenny Kathrine Lorentzen (jenny.lorentzen@gmail.com) or Torunn L. Tryggestad (torunn@prio.no). The next issue is scheduled to be out in late March 2013.
Click here to read the newsletter (pdf).
We wish you all the best for the holiday season and the new year!