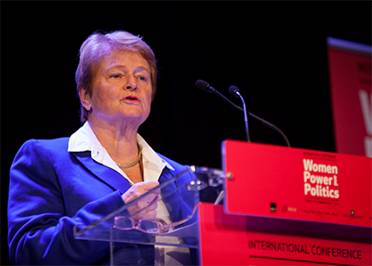 "Why is it so important to promote and safeguard gender equality? It is a matter of human rights. It is a matter of democracy. Also, it is pure common sense." – Gro Harlem Brundtland, 14 November 2013, at the international conference Women, Power and Politics: the Road to Sustainable Democracy.
On Thursday 14 and Friday 15 November PRIO, together with Forum for Women and Development (FOKUS), organized a large international conference in Oslo on the topic Women, Power and Politics: The Road to Sustainable Democracy.
With prominent speakers including Gro Harlem Brundtland, former prime minister of Norway and now member of the UN appointed Panel of Elders, Phumzile Mlambo-Ngcuka, Executive Director of UN Women, Helen Clark, Administrator of UNDP, Louise Arbour, President of International Crisis Group, Bineta Diop, Founder and President of Femmes Africa Solidarité (FAS) and Sanam Anderlini, co-founder of the International Civil Society Action Network (ICAN), the conference attracted a large Norwegian and international audience.
The international conference marked the closing of the celebration of the 2013 Centenary of Women's Suffrage in Norway, focusing on the importance of women's political rights in relation to matters of international peace, security and sustainable development. The aim was to look back in time as well as ahead to the future on how to involve new generations of women.
And indeed, it was a meeting point between longstanding practitioners, activists and researchers, and representatives of a younger generation realizing that the fight is not fought once and for all. This was also the message from several of the speakers, including Gro Harlem Brundtland. In her opening speech, she warned the younger generation(s) against thinking that we are already there, and that we can forget all debate about equal rights and opportunities. "Setbacks can easily happen when our attentiveness recedes," she warned, explaining that "New challenges in a constantly changing society need to keep us alert, need to be seen and acted upon." Gro Harlem Brundtland also spoke convincingly about the centrality of women to a prosperous and equitable world, illustrated by the fact that women's participation in the work force represents a larger component of the Norwegian GNP than the country's oil revenues.

Phumzile Mlambo-Ngcuka, Executive Director of UN Women. Photo: Julie Lunde Lillesæter/PRIO
In her opening remarks, the Executive Director of UN Women, Phumzile Mlambo-Ngcuka, stressed how women must be part of peace negotiations, saying that "Where women participate in peace negotiations, the participation of women in the political process and their political leadership in the country is enhanced." She also emphasized the need to include men in the struggle for gender equality, to make sure that the transformation is about society, about both men and women being transformed. The two-day conference included sessions on International Legal Instruments for Women's Rights, Quotas and Women's Political Participation, The Effect of the Global Financial Crisis on Women, The Arab Spring and Women's Role in Emerging Democracies, and Women's Participation in Peace Processes.
Women must participate in Peace Processes
In a session on women's participation in peace processes moderated by PRIO Researcher and project leader Torunn L. Tryggestad, Sanam Anderlini spoke from a wealth of experience on the topic. "We are getting the question of ending war confused with the question of making peace," she said, before pointing to how in today's peace processes, if you are violent and armed, you will be included in negotiations. "In the last 20 years, one of the things that have happened on the international level is that we recognized that there exist non-state actors in war," she said, "What we haven't recognized is that there are also non-armed actors: and typically women leaders are to be found here." Anderlini further emphasized that we have to practice a democratic process if we want a democratic outcome, referring to the multiplicity of actors and the need for inclusion of civil society.
Civil society participation, and more specifically women's participation, was in focus during this session – which also included Bandana Rana, President of Saathi and member of the Global Network of Women Peacebuilders, Nepal, and Adriana María Benjumea, Director of Humanas, Colombia. They spoke about women's participation in the peace process in their respective countries, describing one striking similarity in both cases: The women and women's organizations, which had been very active in different ways during the conflict, were excluded in the peace process that followed. In Nepal, women had been active across political and ethnic divides during the conflict, but in the aftermath the women's movement became fragmented as a result of the politics of the leaders. In the case of Colombia, women came to be conceived as opponents to peace, in their demands for justice. In Adriana María Benjumea words, "we are not [opposed to peace], but we also need justice. Peace that does not include women will be a very weak peace."
Religious barriers
One recurring topic concerned the situation of women living in countries dominated by strong patriarchal structures, particularly in Muslim countries. The programme also included a session dedicated to the Arab Spring and Women's Role in Emerging Democracies, with Shirin Ebadi, Nobel Peace Prize Laureate and Human Rights Advocate, Madeleine Rees, Secretary General at Women's International League for Peace and Freedom (WILPF), and Hibaaq Osman, CEO and Founder of Karama – Dignity and Equality, a Cairo-based organization working in the entire Middle East.

Shirin Ebadi, Nobel Peace Prize Laureate. Photo: Julie Lunde Lillesæter/PRIO
Nobel Laureate Shirin Ebadi praised the Saudi women who started the campaign for the right to drive for their choice of argumentation. As she said, "since there is nothing about driving in Islam, they cannot tell these women that they are not Muslims." She explained how the patriarchic culture in Islamic countries takes a wrong interpretation of Islam as a discourse and discriminates against women. Her advice to Muslim women was this: to find a way to fight for women's rights through religion, to get to know Islam well in order to be able to interpret it correctly.
Ebadi also spoke of the situation for women's and human rights in her own country, Iran, which she described as even worse than before. Iran had elections in 2013, and the new president did not appoint a single woman as a minister. He even said openly that he is against the appointment of women as ministers. Furthermore, about two years ago the Iranian government introduced gender quotas at Universities, with the result of bringing down the number of women who enroll in certain careers. As Shirin Ebadi said, "They don't want women to have higher education – because a woman who is educated, she knows her value."
Looking to the Future
The conference ended on a note for reflection. Looking to the future, the young generation was given the stage. Hala Al Dosari, Researcher of health services and women's rights advocate, Saudi Arabia, and Khalida Popal, Women's rights activist and former Captain of the National Afghan women's football team, were joined by Maria Kristine Göthner, City Council Secretary to the Oslo City Council Governing Mayor and board member of the Norwegian Young Conservatives, in a discussion about their visions for the future in terms of opportunities and challenges for equal rights and opportunities.
Khalida Popal, Women's rights activist and former Captain of the National Afghan women's football team. Photo: Julie Lunde Lillesæter/PRIO
With one panelist from Saudi Arabia, the country with the lowest employment rate for women in the world, and another that has fled her home country after receiving threats to her life caused by her wish to play football, this session left us all with an afterthought. Concerned with the situation of women in the country when the NATO forces are leaving Afghanistan, Khalida Popal urged the international community not to abandon the women of Afghanistan. "We need your help" she said, "It is not easy to be women in Afghanistan. But we will be the future of Afghanistan, if you let us."
No representative of the younger generation should doubt that there is still much to be done in the fight for women's rights and gender equality after listening to these words from a young Afghan football player.
Written by Jenny K. Lorentzen, PRIO.
Did you miss out on the conference?