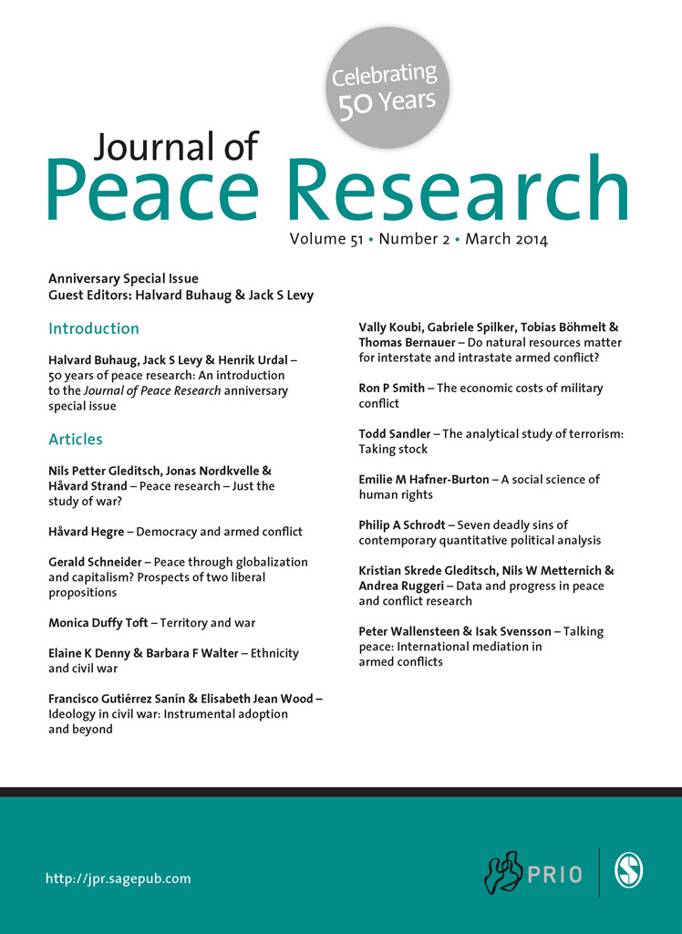 Journal of Peace Research is celebrating it's 50th anniversary this year. To mark the anniversary, JPR has published its Anniversary Special Issue, offering broad reviews of research areas that have been central both to the journal and to the field of peace and conflict research generally. In addition, as part of the celebrations, all articles from JPR's 50 years have been made available for free download for 50 days!
JPR has arranged two events at the ISA Annual Convention in Toronto at the end of March. An anniversary celebration reception will take place on Wednesday 26 March, 19:00–20:00 (Willow East, Sheraton Centre Toronto), while a Presidential Roundtable entitled 'Globalization, Geopolitics and War: Celebrating Journal of Peace Research at 50' is scheduled for Thursday 27 March, 8:15–10:00 (Sheraton C, Sheraton Centre Toronto). Several of the contributors to the Anniversary Special Issue will take part, including Jack S. Levy, Gerald Schneider, Monica Duffy Toft, Isak Svensson, and Vally Koubi, in addition to Jack A. Goldstone and Scott Gates.
A celebration of JPR at 50 will also take place at PRIO in June, and more information will follow.