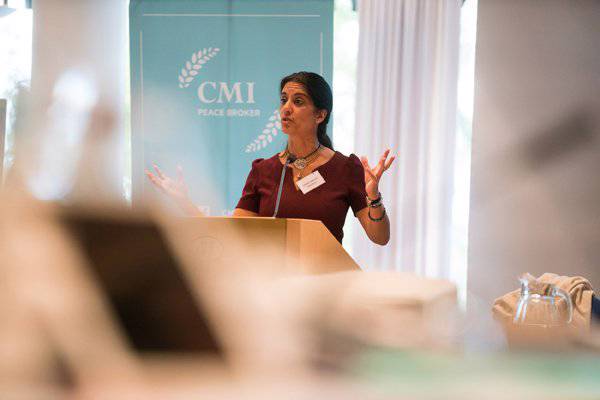 On 10-12 October 2017, twenty-six senior peace mediators met in Helsinki for the High-Level Seminar on Gender and Inclusive Mediation Processes, where they were trained in how to ensure women and gender perspectives are included in peace processes.
This was the eighth in a series of seminars that began in 2013 in order to generate more consultative processes by promoting women's effective participation and building inclusive, gender-sensitive mediation capacity at international, regional and national levels.
The two and a half-day seminar was formally opened by Peter Stenlund, Finnish State Secretary; Miroslav Jenca, Assistant Secretary-General of the UN Department of Political Affairs; Tuija Talvitie, Executive Director of the Crisis Management Initiative; and Henrik Urdal, Director of PRIO. This was followed by a keynote speech given by Teresita Quintos Deles, former presidential advisor on the peace process in the Philippines, who shared experiences on engendering the Bangsamoro peace process. Among the seminar instructors was PRIO's Deputy Director Torunn L. Tryggestad who gave a presentation on the emergence and spread of the Women, Peace and Security normative agenda.
The seminars introduce senior mediators to practical "how-to" strategies and tools for more inclusive peace process design, as well as options for gender–relevant provisions, including specific language, for the key thematic areas of peace agreements. The seminars are rooted in the premise that women living in a conflict have strategic knowledge and networks to contribute to its resolution and can be actors in implementing sustainable peace. Gender dynamics thus create unique opportunities and challenges for peacemaking and need to be understood, analysed, and used for strategic advantage.
The seminar series is one of the main training activities of the PRIO Centre on Gender, Peace and Security, and is a cooperative effort of PRIO, the UN Department of Political Affairs, the Crisis Management Initiative (CMI), and the Governments of Norway and Finland.