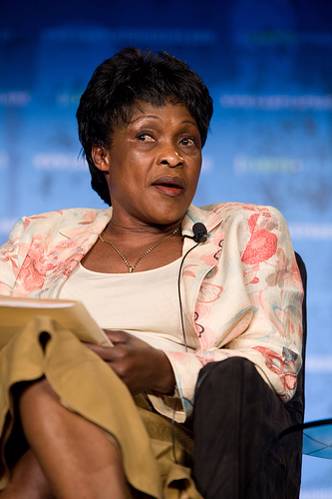 Betty Bigombe, former chief mediator in the conflict between the government of Uganda and the Lord's resistance Army (LRA), is coming to PRIO to talk about her experiences as a mediator and particularly how being a woman affected her work. She will reflect upon the gendered aspects of her work as a mediator and about future challenges in the field of gender and mediation and peace negotiations in general.
A video recording of the event is available here.
Program
09.30-09.40: Introduction and welcome by Kristian B. Harpviken (Director, PRIO)
09.40-10.25: Gender and mediation - Reflections from Uganda (Betty Bigombe)
10.25-11.30: Q&A and open discussion (chaired by Torunn L. Tryggestad)
About the Speaker
Betty Bigombe is currently Uganda's Minister for Water in the Ministry of Water and Environment. In the field of mediation, she is best known for her efforts to create peace in Northern Uganda. She tirelessly played the role of chief mediator, peace advocate and advisor to the warring factions, and synonymously became a voice for the people of Northern Uganda during and after the Lord's Resistance Army (LRA) war with the government of Uganda.
Bigombe was appointed Deputy Minister, Office of the Prime Minister, in 1986, one of the first three women ministers in the NRM government. In 1988 she was appointed Minister of State for pacification of the North and Northeastern Uganda. In this capacity, she began her pursuit for peace, a process that eventually led to the peace talks in 1993/1994, which are today known as the Bigombe 1 initiative. To this day, Betty Bigombe is actively involved in assuring peace and rebuilding in Northern Uganda, particularly her home district of Amuru.