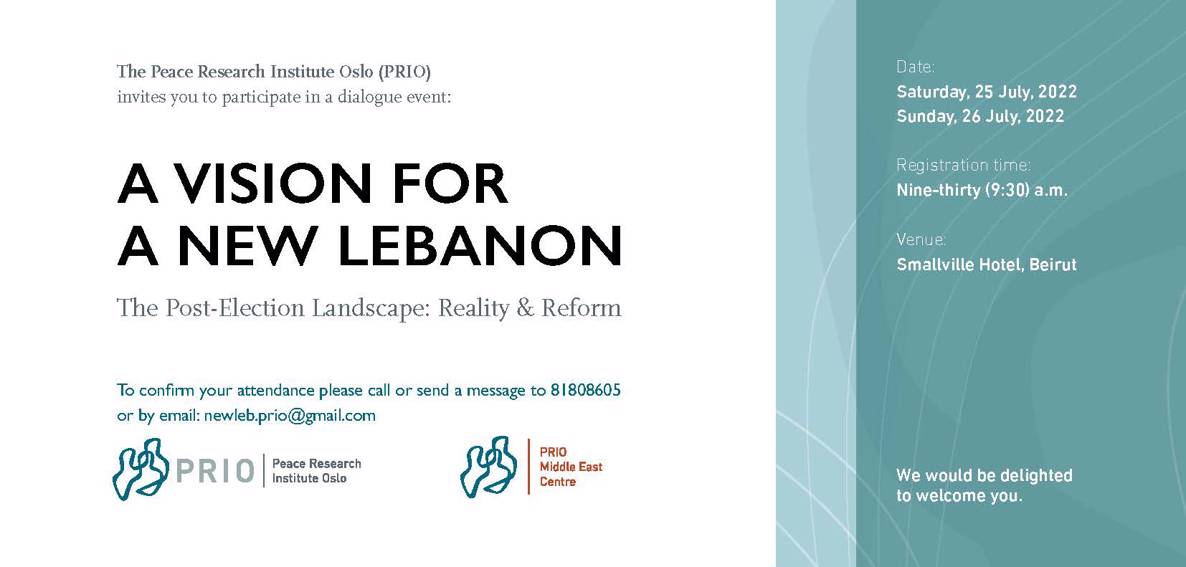 'A Vision for A New Lebanon' is an initiative by The Peace Research Institute Oslo's Middle East Centre. It aims to facilitate dialogue in Lebanon around key topics essential to creating a modern vision for a better Lebanon and to encourage consensus-building around the reforms needed to realize this vision.
The initiative consists of a series of events bringing together a diverse range of participants from across the national spectrum, including new members of parliament, local and community figures, activists, and representatives of educational institutions, social movements, unions, and non-governmental organizations.
In our upcoming event we will focus on "the post-election landscape, reality and reform" from a social-political perspective. Participants will engage in panel discussions to identify key issues and priorities for action. Questionnaires will be circulated to bring further focus into the discussions.
Click the link below to follow the event live on Youtube:
Program
Day 1 - 25 June 2022
09:30 - 10:00 Registration
10:00 - 10:30 Welcome – PRIO
Watch the recording of the welcoming speeches and session 1 here:
English version (coming soon)

Greg Reichberg - Research Professor, PRIO

Harry Tzimitras - Director, PRIO Cyprus Centre

Khaled Zaza - External Associate, PRIO
10:30 - 12:00 Session 1: The Lebanese National Idea
Moderator: Sobhiya Najjar - Journalist
Panel:
Dr. Ali Mourad - Assistant professor in Public Law, BAU
Journalist Saada Allaw - Head of Journalism Department, Legal Agenda
Dr. Wissam Laham - Lecturer at the Institute of Political Science, USJ Beirut
Discussion, questions and comments
12:00 - 12:30 Coffee Break
12:30 - 14:00 Session 2: Institutions Past and Future
Watch the recording of session 2 here:
English version (coming soon)
Moderator: Journalist Yumna Fawaz - Founder and Director of U for Political and Media Consulting
Pan el: "Democratic Institutions and The Rule of Law"
MP Ibrahim Mneimneh - Member of the parliamentary Budget Committee
Dr. Jamil Mouawad - Senior fellow at the Arab Reform Initiative (ARI)
Journalist Diana Mokalled - Co-founder and Managing Editor of Daraj Media
Journalist Layal Bou Moussa - Investigative journalist and PhD candidate in Law
Discussion, questions and comments
14:00 - 15:30 Lunch
15:30 - 17:00 Session 3: Inclusivity
Watch the recording of session 3 here:
English version (coming soon)
Moderator: Journalist Doja Daoud - Feminist activist, press freedom advocate, and founding member of the Alternative Press Syndicate
Panel : "Women in Lebanese Political Life"
MP Dr. Halime Kaakour - Member of Parliament
Verena el Amil - Student and political activist
Dr. Rania Arab - Lecturer at the Lebanese University
Alya Awada - Feminist activist and director of NO2TA the Feminist Lab
Discussion, questions and comments
Day 2 - 26 June 2022
Watch the recording of the summary and session 4 here:
English version (coming soon)
11:00 - 11:15 Summary of Day 1
Henrik Buljo Anstorp (Coordinator, PRIO Middle East Centre)
11:30 - 13:00 Session 4: Policy Aspects and Implementation
Moderator: Adam Shamsedeen - Investigative Journalist
P anel: "What policies are needed for a new Lebanon?"
MP Dr. Abdel Rahman Al Bizri - Health Department
Journalist Riad Kobeissi - Investigative journalist & researcher
Lawyer Nizar Saghieh - Co-founder and Executive Director of Legal Agenda
Lawyer Mohammad Sablouh - Head of the prisons committee at the Tripoli Bar Association and expert on penal justice
Discussion, questions and comments
Watch the recording of the final discussions here:
English version (coming soon)
13:15 - 13:45 The Road Ahead
Summary of conference discussions: Henrik Buljo Anstorp (Coordinator, PRIO Middle East Centre)

General discussion and drafting of common blueprint on fundamental elements for a new Lebanon