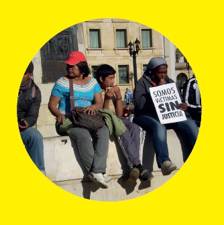 In the project "The Significance of Political Organization and International Law for Displaced Women in Colombia: A Socio-legal study of Liga De Mujeres, Julieta Lemaitre (Associate Professor of Law at Universidad de los Andes, Bogotá, PRIO Global Fellow and Robina Foundation Visiting Human Rights Fellow, Yale Law School), Kristin Bergtora Sandvik (Senior Researcher at PRIO and Director of the Norwegian Centre for Humanitarian Studies) and a team of graduate students have explored the importance of political mobilization and organization for the protection of the human security of internally displaced women in the period 2010-2013.
​A major output of the project is four collaborative case studies in Spanish, describing the best practice organization Liga de Mujeres Desplazadas, the mobilization of indigenous women, the shift from displacement to victimhood as the focus for grassroots organizing, and the legal and theoretical paradigms through which we can make sense of legal and political grassroots mobilization in the midst of ongoing violence.
The four case studies can be found on the website of Justicia Global or through the links below.
 ***