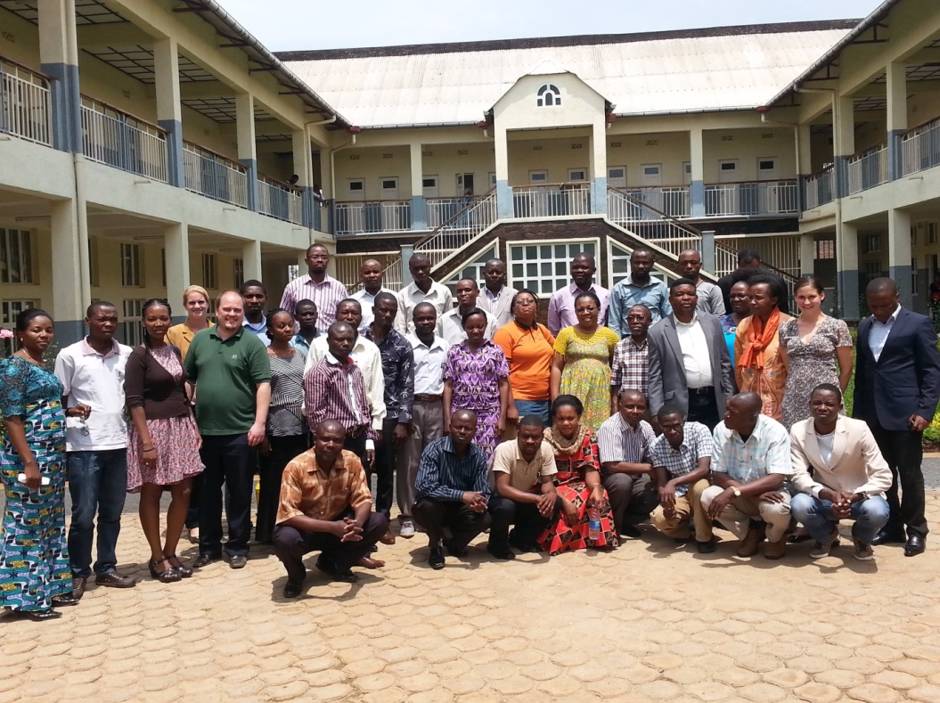 ​​In October the PRIO-team working on the project 'Female Empowerment in Eastern DRC' visited Bukavu in order to conduct a three week Basic Training in Peace and Conflict studies, Research Methodology, GIS, and Academic Writing (13-29 October). This training was part of the project's Work Package 1, which aim is to build local research capacity through workshops and intensive training of ICART researchers in various topics related to research and research methodology. 

Training participants and facilitators.
The training was divided into five thematic parts: (1) Introduction to Peace and Conflict Studies and Qualitative Research Methods; (2) The Basics of Academic Writing;  (3) Introduction to Geographical Information Systems (GIS),  (4) Creating Surveys, and (5) Introduction to Quantitative Research Methods (see more detailed overview in the table below).

Carl Henrik Knutsen (UiO) lecturing on statistical methods.
The facilitators consisted of four PRIO researchers, Lynn Nygaard; Ragnhild Nordås; Siri Aas Rustad; and Gudrun Østby, as well as three external experts, Randi Solhjell (London School of Economics & Norwegian Institute of International Affairs);  Angélique Awa (The Norwegian Directorate of Immigration) and Prof. Carl-Henrik Knutsen (University of Oslo).
In addition to local team-members from the "Female Empowerment in Eastern DRC" project (from ICART) the training participants also included faculty and higher level students from the Université Evangelique en Afrique (UEA) and medical doctors from Panzi hospital, which made for quite a heterogeneous group. The number of attendants varied between 18 and 45 (depending on the topic), with an average of 25 attendants per day. The core ICART project-team members followed the entire training.
The first week focused on the field of peace research and qualitative research methods and included several practical and group exercises (for example focus group discussions and interviews). For the part on academic writing during the second week, a number of participants had submitted written texts in advance that were discussed during the training, which made this part too very interactive. Participants also received two days training on how to use qGIS, an open-access software, to create maps and manage geographical data. Finally, participants were trained on how to create a survey, as well as got an introduction to quantitative methods.

Dr. Christina Amisi (ICART) and Siri Aas Rustad (PRIO) facilitating a training on how to create surveys.
The level of interaction throughout the sessions, as well as weekly and final evaluations from the participants indicate that the training was truly successful, and there is clearly a joint wish from both project partners to conduct more trainings in the future.
During the PRIO visit to Bukavu, the project partners also managed to meet to plan future work in the project. The main next step now is to conduct a survey in selected areas in South Kivu of survivors of sexual and gender-based violence in order to better understand how socioeconomic reintegration of these women can be achieved. The training of enumerators and survey pilot is planned to take place in January-February 2015.
Broad Overview of Training
 
Part I: Introduction to Peace and Conflict Studies and Qualitative Research Methods

​
​
​

Date/Time/Venue

Topic
  
Lecturer
Week 1

13 October
9 am-1 pm
ICART

Training introduction
An introduction to social science research (S1)
An introduction to qualitative methods in social science research (S2)

 

   Ragnhild Nordås 
   & Randi Solhjell

​

14 October
9 am-1 pm 
ICART

Introduction to peace and conflict studies (S3)
Conflict and violence in the DRC (S4)

  
   Ragnhild Nordås
   & Randi Solhjell

​

15 October
9 am-1 pm
ICART

Ethics in qualitative social science research (S4)
Qualitative data (S6)
The semi-structured, in-depth interview (S7)
The focus group interview (S8)

  

   Randi Solhjell

​

16 October
9 am-1 pm
ICART

Conflict and sexual violence in DRC and beyond (S9)
Women, peace and security (S10)

  

    Ragnhild Nordås

​

17 October
9 am-1 pm
ICART

Peacebuilding (S11)
Analyzing qualitative data (S12)

  
   Ragnhild Nordås
   & Randi Solhjell
​
18 October
No training
 
​
19 October

No training

 
 


Part II: The Basics of Academic Writing

​
​
Week 2

20 October
9 am-1 pm
ICART

What distinguishes academic writing from other writing. The audience; core argument and structure (S13)

  

   Lynn Nygaard

​

21 October
9 am-1 pm
ICART

Identifying the argument (S14)
Thematic lecture: Armed Conflict and Domestic Violence (S15)

   Lynn Nygaard 
   & Gudrun Østby

​

22 October
9 am-1 pm
ICART

Giving and receiving feedback (S16)
Thematic lecture: Inequality and Armed Conflict (S17)

  
   Lynn Nygaard
   & Gudrun Østby

​


Part III: Introduction to Geographical Information Systems (GIS)

​
​
​

23 October
9 am-1 pm
ICART

Lecture on the use of disaggregated data and GIS in peace and conflict studies (S18)
Introduction to Quantum GIS (S19)

  

    Siri Aas Rustad

​

24 October
9 am-1 pm
ICART

Creating maps in Quantum GIS (S20)
Working with data in Quantum GIS (S21)

  

    Siri Aas Rustad

​

Part IV: Creating Surveys
​
​
​

25 October
9 am-1 pm
ICART

Introduction to creating survey questionnaires (S22)

  

   Siri Aas Rustad

​
26 October

No training
 
 

Part V: Introduction to Quantitative Research Methods
​
​
Week 3

27 October
9 am-1 pm
ICART

Research design ; Quantitative data: basic concepts and tools (S23)
Univariate statistics (S24)

  

   Carl Henrik
   Knutsen

​

28 October
9 am-1 pm
ICART

Bivariate statistics; sampling (S25)
Gathering, analyzing and interpreting quantitative data material (focus on surveys) (S26)

  

   Carl Henrik
   Knutsen

​

29 October
9 am-1 pm
ICART

 OLS regression; Correlation and causal inferences (S27)
Interviewing survivors of sexual violence (S28)

  

   Carl Henrik
   Knutsen
   & Angelique Awa