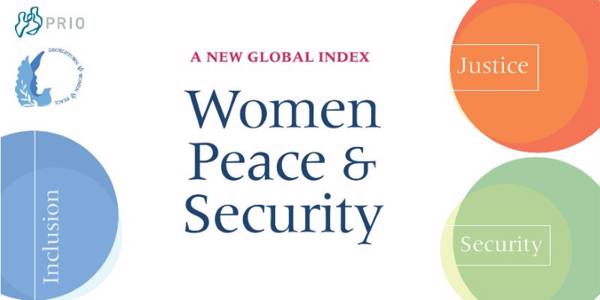 The new and global Women, Peace and Security Index, developed by PRIO and the Georgetown Institute for Women, Peace and Security, launched at the United Nations today.
The WPS Index is a major innovation that will bridge insights from gender and development with peace and security indices. It captures both peace and security and women's inclusion and justice for the first time. The first report, structured around three basic dimensions of women's well-being (inclusion, justice and security), ranks 153 countries and covers more than 98 percent of the world's population. It will be updated every two years.
A panel of speakers – including the UN Secretary-General's Special Representative on Sexual Violence in Conflict and the Executive Director of UN Women – will introduce the WPS Index and discuss how the results can advance Women, Peace and Security commitments and support the 2030 Sustainable Development Agenda.
From PRIO's side, work on the WPS Index has been led by Marianne Dahl, with PRIO's Director Henrik Urdal and Deputy Director Torunn L. Tryggestad contributing. Dahl and Louise Olsson attended today's launch in the UN on PRIO's behalf. The project has been funded by the Norwegian Ministry of Foreign Affairs and the Bank of America Charitable Foundation.
The launch coincides with the UN Security Council's annual open debate on Women, Peace and Security that will take place tomorrow, 27 October.