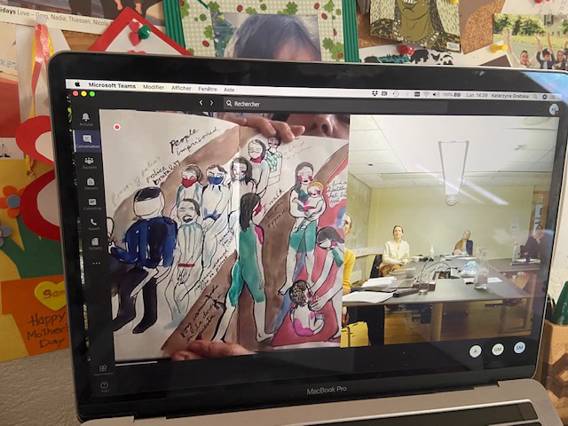 On October 5-6th a workshop on creative methods was held for the INSPIRE project. The goal was to discuss creative approaches to study inspiration and social justice. Workshop participants were INSPIRE team researchers; Katarzyna Grabska, Cindy Horst, Marte Nilsen, Trude Stapnes and Sara Christophersen as well as invited artists and academics; Anna Konik (visual artist and advisory board member for the INSPIRE project), George Mahashe (artist, photographer, academic and advisory board member for the INSPIRE project), Solveig Korum (Senior Advisor at Kulturtanken and advisory board member for the INSPIRE project), Cathy Wilcock (musician and academic) and Marisa Cornejo (visual artist).
The first day consisted of several presentations where artists and academics reflected on and shared their working processes with the following presentations:
Moving bodies: Knowing through movement, body and dance by Sara Christophersen
Ways of seeing and knowing: In the same city, under the same sky …. By Ania Konik https://www.annakonik.art.pl
Creative research methods: Co-musiking by Cathy Wilcock
Our wounds are our trophies: how to memorialise the politics of our dreams by Marisa Cornejo http://marisacornejo.com
Play and artistic research in anthropology's archive by George Mahashe http://georgemahashe.co.za
Art and research: Is it possible to be 'artistically' academic? By Kasia Grabska
Day two created a space for reflection on day one and facilitated discussions on how each of the researchers will study inspiration, creative practice and the link between inspiration, creative practice and activism; agree on an ethical approach; and agree on guidelines and procedural aspects of fieldwork.