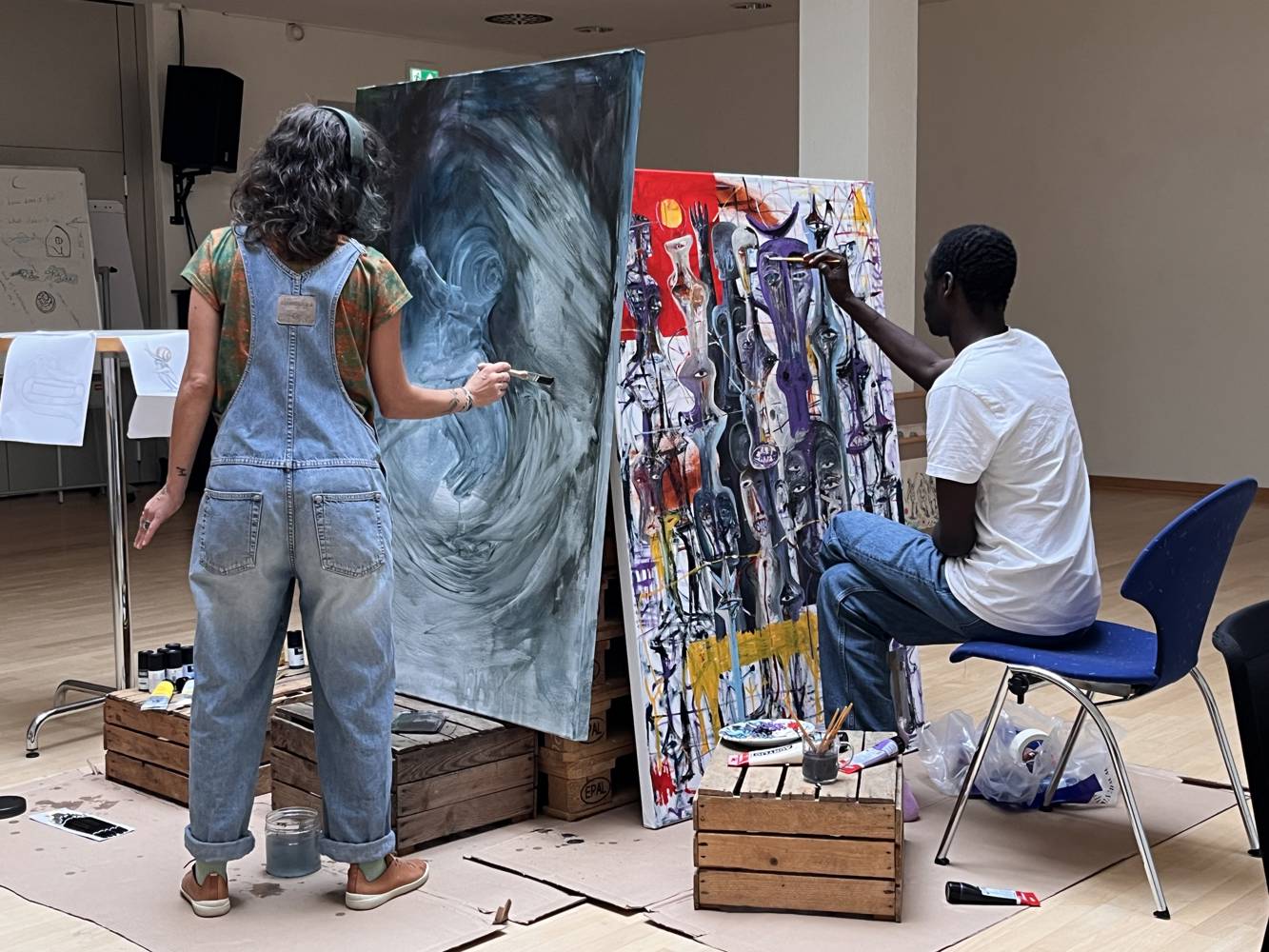 In a two-month residency, a group of international artists and researchers have investigated how creative practice can enable new ways of seeing, relating to and understanding individual and collective experiences of violent conflict and oppression. Diala Brisly, Cindy Horst, Daria Pugachova and Khalid Shatta have created a space to explore the results of this residency in a 'Festival Week' where the group aim to exchange with and learn from audiences through a variety of different events.
The festival week begins with "Creative Resistance" on October 5th in the Hague — an engaging panel discussion and exhibition that sets the tone for a week of collaborative artistic exploration. Attendees will have the chance to delve in how creativity can act as a form of resistance.
On October 6th, the festival takes a literary turn with book launches by Diala Brisly and Cindy Horst. Diala introduces her latest work, "Im klassenzimmer der diktatur" (In the Classroom of the Dictator), while Cindy shares insights from her book, "Creative Resistance." The day also features a workshop for the artist residents exploring performance as a mode of resistance, led by Omid Kheirabadi.
October 7th invites the public to an open studio event at Boijmans Zuid, featuring workshops by Khalid, Cindy, Diala and Daria. Attendees are encouraged to explore their own creative resistance through various artistic mediums while seeing an exhibition of the work the artists have been working on during their time in Rotterdam. The weekend continues with a workshop on polarity processing for the residents and Rotterdam-based artists, hosted by Cindy in collaboration with Daria.
On October 9th a group of lower secondary youth, recent arrivals to the Netherlands, will meet the artists in this same space. They will interact with the suitcases that they made in two art classes facilitated by Diala Brisly, which are exhibited at Boijmans Zuid. Daria then stages a Ukrainian classroom experience to share aspects of Ukrainian culture, geography and history on October 11th.
The week continues with an exploration on art in war through an exhibition by Sandra Smets in the Boijmans Depot on October 12th and a film screening of Daria Pugachova's short film Microcosmos on the 13th with a chance to discuss afterwards.
The Festival Week culminates with the "Final Event" on October 14th, bringing together an art exhibition, music, and food to celebrate the journey the Rotterdam Residency has been.
Full schedule can be accessed through this link.
---
The residency is run by the Peace Research Institute Oslo through the INSPIRE project. It is supported by the Goethe-Institut, Verhalenhuis Belvedere and Boijmans Zuid. Read more about the residence here.