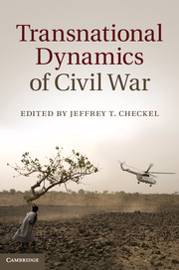 The book Transnational Dynamics of Civil War (Cambridge University Press) presents research completed in 2010-12 by one of the working groups of PRIO's Center for the Study of Civil War (CSCW). The authors take on the challenge of explaining how cross-border groups and interactions shape the course of civil wars and the potentials for ending the violence.
The book builds on insights from international relations theory, sociology, and transnational politics, as well as the rich comparative-quantitative literature from centers such as CSCW. Each chapter highlights the causal mechanisms – framing, resource mobilization, socialization, among others – that link the international and transnational to the local, emphasizing the methods required to measure them. Case studies include Afghanistan, Chechnya, Rwanda, Sudan, Turkey and Uganda.
The book is edited by PRIO research professor Jeffrey T. Checkel, and among the contributing authors are PRIO Director Kristian Berg Harpviken and Professor Elisabeth Jean Wood, on the Peace Research Endowment Board. Other chapters are by CSCW working group members Fiona B. Adamson, Kristin M. Bakke, Andrew Bennett, Stephan Hamberg, Sarah Kenyon Lischer, Martin Austvoll Nome, Hans Peter Schmitz and Nils B. Weidmann.