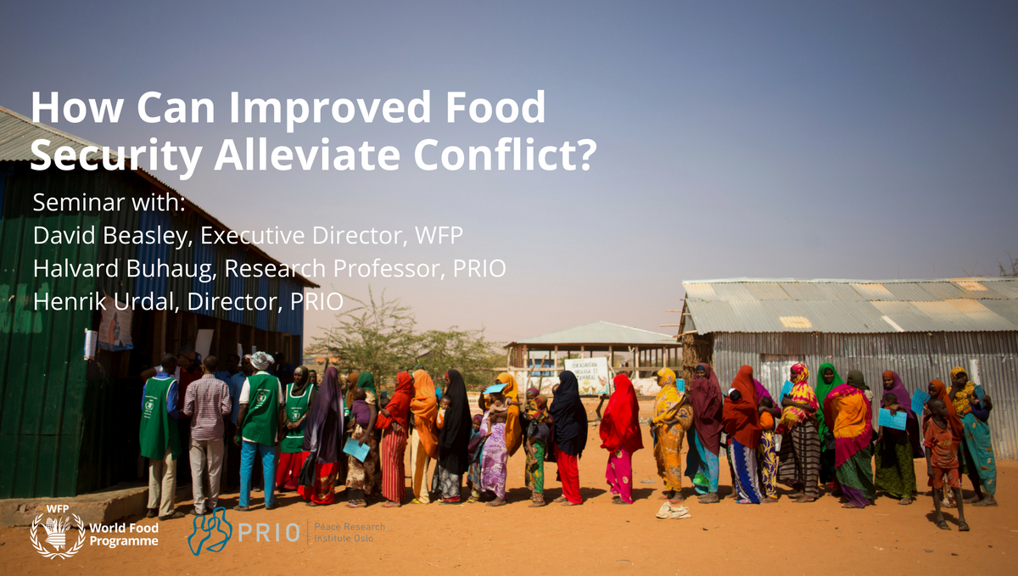 ​After steadily declining for over a decade, global hunger is on the rise again, affecting 815 million people, or 11 per cent of the global population, according to The State of Food Security and Nutrition in the World 2017 report. Conflict is a key driver of hunger—60 per cent of the world's hungry live in conflict-affected areas. Hunger also drives conflict as it fuels longstanding grievances and disputes over land, livestock and other assets. The role of food security – with its vital and far-reaching impact on security – remains fundamental for sustained development and peace.

Please be welcome to this lunch seminar with WFP Executive Director David Beasley, PRIO Director Henrik Urdal, and Research Professor Halvard Buhaug. 

11.00 – 11.15: Light lunch and coffee is served.
11.15 – 11.20: Introduction by PRIO Director Henrik Urdal.
11.20 – 11.35: Presentation by David Beasley, Executive Director of the World Food Programme.

How can feeding a hungry world contribute to stable societies and sustained peace?

11.35 – 11.50: Presentation by Halvard Buhaug, Research Professor at PRIO.
What can science tell us about links between food insecurity and violent conflict?

11.50 – 12.15: Questions from the Chair Henrik Urdal, followed by discussion. 

The seminar will be recorded.