El proyecto MAPS
Desde el 2015, el proyecto MAPS (Monitoreo de Actitudes, Percepciones y Apoyo al Proceso de Paz, por su sigla en inglés) viene desarrollando una herramienta para medir y rastrear las percepciones y la experiencia de la ciudadanía con relación a la implementación del Acuerdo de Paz en Colombia de manera representativa en las 16 zonas de los Planes de Desarrollo con Enfoque Territorial (PDET). El proyecto es un esfuerzo conjunto del Programa de las Naciones Unidas para el Desarrollo (PNUD) Colombia y el Peace Research Institute of Oslo (PRIO). El proyecto tiene socios estratégicos como la Universidad de Los Andes y el Instituto Kroc. Esta iniciativa innovadora cuenta con el apoyo del Ministerio de Relaciones Exteriores de Noruega (MFA) y del Fondo Multidonante de las Naciones Unidas para el Sostenimiento de la Paz (MPTF).
En 2016, el Gobierno de Colombia y las Fuerzas Armadas Revolucionarias de Colombia - Ejército del Pueblo (FARC-EP) firmaron un ambicioso e integral Acuerdo de Paz para poner fin a un conflicto armado de más de 50 años. El Acuerdo sentó las bases para atender las causas estructurales del conflicto armado y trazar una ruta para la estabilización en Colombia. Sin embargo, en promedio, en más de la mitad de todos los períodos de paz posteriores a la firma de un acuerdo para la terminación de un conflicto, puede haber una reaparición del conflicto armado. Hasta 10 años después del cese de las hostilidades existe una probabilidad alta de que se repita el conflicto. En otras palabras, el proceso de paz en Colombia apenas ha iniciado un largo camino.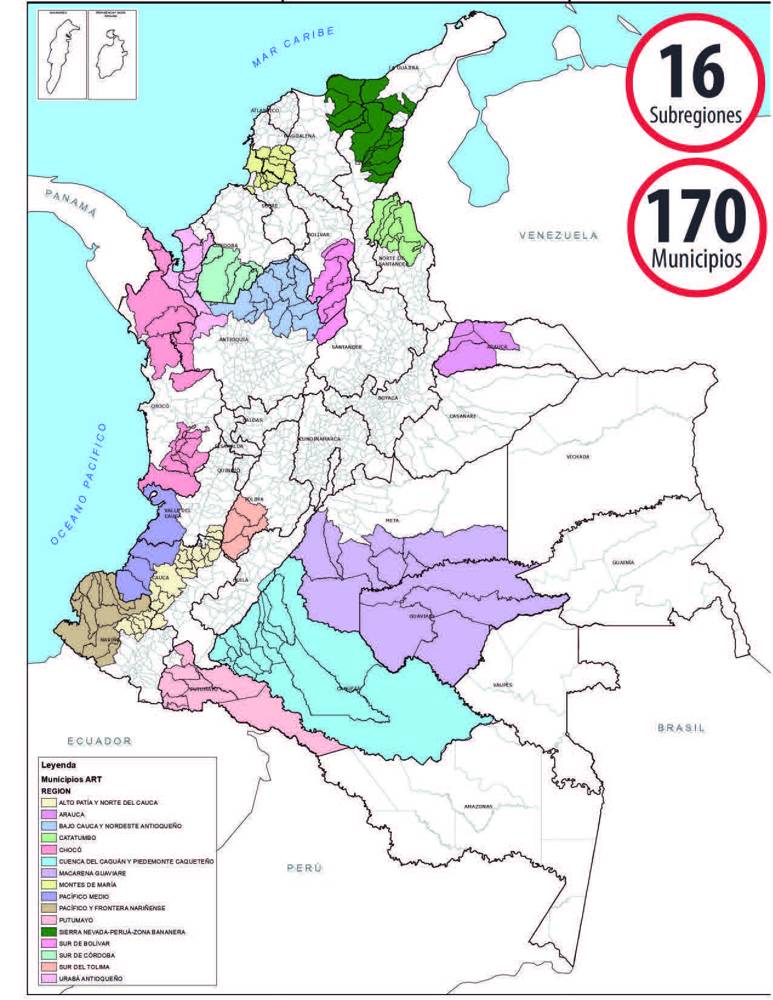 En Colombia, es fundamental que el Acuerdo de Paz se aplique de tal manera que sirva para mitigar el riesgo de la reanudación de los combates y otras formas de conflictividades. Por lo cual, tanto la forma en que se implemente el Acuerdo de Paz como las percepciones y experiencias de la ciudadanía con el proceso determinarán, en gran medida, el fracaso o el éxito de este proceso. Las autoridades nacionales y locales, así como socios internacionales como la ONU y los muchos otros países y organizaciones donantes que actualmente trabajan en el país, carecen actualmente de información sistemática y rigurosa sobre cómo se vive y se percibe el proceso de implementación del Acuerdo de Paz a nivel local. Este proyecto busca mitigar esa carencia de información y aportar a otras herramientas y ejercicios de monitoreo y acompañamiento de la implementación del Acuerdo de Paz.
El proyecto MAPS viene desarrollando una encuesta innovadora para medir las percepciones y la experiencia ciudadana el proceso de paz en Colombia. En el 2017, se realizaron dos pilotos municipales, en Mesetas (Meta) y Tumaco (Nariño), que pusieron a prueba la metodología y aportaron insumos valiosos para las recolecciones futuras.
En el 2018, el proyecto inició la recolección de información a nivel PDET en las subregiones de Arauca y Sur de Tolima, consolidando así la ruta de implementación para la primera ronda nacional. Entre octubre y diciembre de 2019, se desarrolló la línea de base nacional con la recolección de aproximadamente 12,000 encuestas en las 16 subregiones PDET dando como resultado el primer informe nacional denominado 'Luces y sombras de la implementación de la paz en Colombia'.
Consulte aquí el resumen ejecutivo (summary)
Consulte aquí la base de link
Desde el PNUD la coordinación general del proyecto está a cargo de Tamara Simao, con el liderazgo técnico y político del Asesor Senior Pablo Ruiz Hiebra, también coautor del informe. El equipo del Área de Paz, Desarrollo y Reconciliación del PNUD ha aportado significativamente al proyecto.
The MAPS project
The MAPS project carries out a panel survey measuring and tracking people's perceptions of and experience with the peace process in Colombia over time. The project is a joint effort by UNDP Colombiaand PRIO. The project is also collaborating with the Kroc Institute, as well as the researchers at the Universidad de los Andes and the University of Amsterdam.
An ambitious peace accord was signed between the Government of Colombia and the Fuerzas Armadas Revolucionarias de Colombia – Ejército del Pueblo (FARC-EP) in 2016. The accord lays the foundation for a stable and peaceful Colombia. Yet, on average more than half of all post-conflict peace periods collapse and see a recurrence of armed conflict, and overall the likelihood of conflict recurrence remains elevated for as much as ten years following the cessation of hostilities. In other words, the peace process in Colombia has only just begun.
It is critical that the peace accord is implemented in a way that serves to mitigate the risk of renewed fighting. In this, both how the peace accord is implemented and peoples' perceptions of and experiences with the peace process will, to a great extent, determine the failure or success of the peace process. National and local authorities in Colombia, as well as international partners such as the UN and the many other donor countries and organizations that currently work in Colombia, currently lack any systematic and rigorous information of how the process of implementing the peace accord is experienced and perceived at the local level by the local population. This project seeks to mitigate this.
The MAPS project has developed an innovative survey to measure people's perceptions of and experience with the peace process in Colombia. The survey covers all conflict-affected regions of Colombia (the 16 original PDETs - Development Plans with a Territorial Focus) and produces systematic and representative data at the local level. The project will serve as a tool for implementing the peace accord by informing policy planning and decision-making. In this, MAPS will develop knowledge of what kinds of national, regional and local policies and events shape perceptions of the peace process, and support concrete efforts by the international community and local partners to successfully implement the peace accord. The survey will produce novel academic knowledge on peace processes, but the primary goal of MAPS is to be operationally useful for governmental and civil society actors in Colombia that support efforts to sustain peace.
MAPS completed pilot testing in Tumaco and Mesetas in 2017 and in Arauca and Tolima in early 2019. The first full wave of surveys covering the remaining 14 PDETs was completed in late 2019. The second full wave of surveys in all 16 PDETs was carried out in summer 2021.
MAPS has produced a web application, available here.
A report presenting the first survey wave of MAPS, as well as replication data, is available here.
A report presenting the second survey wave of MAPS, is available here.
The project research team is listed below. From the UNDP, the overall coordination of the project is in charge of Camilo Sanchez Meertens. At earlier stages Tamara Simao and Pablo Ruiz Hiebra were essential in developing and implementing the project. The UNDP Peace, Development and Reconciliation Team has contributed significantly to the project.